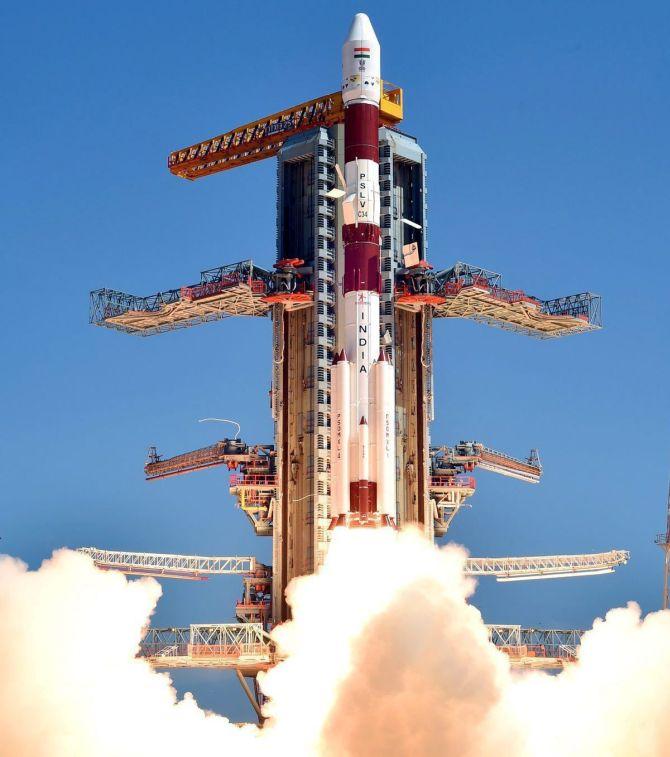 ISRO needs next generation launchers and new facilities to manufacture and launch them, including a new launch pad at the Sriharikota spaceport.
T E Narasimhan reports.
The Centre has allocated Rs 107.83 billion for the Department of Space for the financial year 2018-2019, against Rs 91.55 billion in the revised estimates for 2017-2018.
The allocation includes about Rs 89.63 billion for various space-related projects of the department, and also the targets to be achieved in the next fiscal year.
While the general perception is that the allocation should be more, considering the fact that the Indian Space Research Organisation is trying to increase its launches, experts pointed out this should be looked at in the backdrop of ISRO's efforts to form partnerships with private companies and the growing revenue of Antrix, the commercial arm of the government space agency.
The Budget speech perceptibly omitted any mention of the space department though it had achieved several milestones last year.
The Output Outcome Framework for Schemes 2018-2019 maintained that the allocation would be utilised for preparing launch vehicles and satellites to be used in disaster management.
Of Rs 89.63 billion, a major chunk of around Rs 65.76 billion has been budgeted for research and development in manufacturing spacecraft and launch vehicles.
This will include three earth observation spacecraft, four Polar Satellite Launch Vehicle flights, one Geosynchronous Satellite Launch Vehicle MK-III and one GSLV.
Though late in making the announcement on space research, the government has not given it a complete miss and wants to utilise the funds to strengthen the space infrastructure and provide uninterrupted Earth Observation satellites with improved capabilities.
Additionally, the Centre wants to ensure operational launch services for domestic and commercial satellites and make the country self-sufficient in launching 2.5-3 and 4-tonne class of communication satellites in geo-synchronous transfer orbit.
To get accurate information on optimum management of natural resources, natural disasters, agricultural planning, infrastructure planning and provide basic services in rural areas, the Centre wants ISRO to send nine Earth Observation/communications payloads, information support for five disaster events, 8,500 maps to support national missions and users projects and 3,00,000 value-added products to be disseminated to users.
The outlay for this has been earmarked at Rs 17.46 billion.
In the segment of space science missions and interplanetary expeditions, Rs 2.3 billion has been earmarked to realise India's lunar mission/Chandrayaan-II, to ready two sub-systems for the Aditya-L1 Mission and for others.
Lastly, Rs 4.11 billion has been allotted to complete and launch two communications satellites during the year.
This will support existing services to telecommunications, television broadcasting, disaster communications, tele-education and tele-health services.
Ratan Shrivastava, independent consultant for defence, aerospace and space, said ISRO had been roping in private investors for satellites and launch vehicles, owing to which its capital cost would come down.
"We should also remember that Antrix Corporation's revenue has been increasing year on year," he added.
In 2016-2017, Antrix's annual turnover increased to Rs 19.23 billion from Rs 18.60 billion in the same period a year ago.
Subsequently, its profit after tax (PAT) rose to Rs 2.09 billion from Rs 2.05 billion the previous year.
ISRO has been enhancing its capacity to increase the frequency of launches to 12 per year from the present figure of 7 every year.
Earlier, ISRO was conducting two-three launches per year, which then gradually increased to four or five.
In the past few years it is around seven launches a year.
ISRO needs next generation launchers and new facilities to manufacture and launch them, including a new launch pad at the spaceport of Sriharikota, near Chennai.
A second vehicle assembly building at the Sriharikota launch centre will help increase launches. It will be ready in a couple of months.