Approving the licence for the first private firm to conduct tests for COVID-19, cancelling all non-emergency leaves of paramilitary and Army personnel, and promoting government primary school students without exams are among the measures taken by various stakeholders to control the pandemic as the number of positive cases in the country rose to 151 on Wednesday.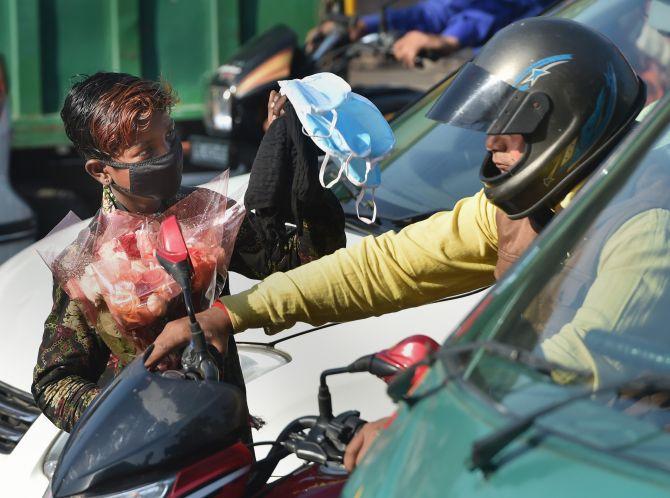 As the Indian Army reported its first case of the infection with a 34-year-old soldier testing positive in Leh, the Army said it has taken a series of precautionary measures to prevent the spread of coronavirus among the forces such as checking flu symptoms among soldiers on their return from leave and cancelling non-essential travel, conferences and recruitment drives.
Officials said at some locations the Army has also placed soldiers under quarantine after their return from leave.
The Air Force too has announced postponement of the recruitment exams which were scheduled later this week, according to officials.
A four-page directive was issued by the Union home ministry asking the 10 lakh personnel-strong Central Armed Police Forces (CAPF) to cancel all non-emergency leaves of members of the paramilitary to minimise the risk of contracting coronavirus during travel.
Paramilitary personnel were also asked by the government to get into 'battle mode' to combat the pandemic by ensuring personal and public safety, as per the directive.
Two fresh positive coronavirus cases were reported in Uttar Pradesh.
In the first case, a 25-year-old junior resident doctor of the King George Medical University in Lucknow tested positive after coming in contact with two patients undergoing treatment for the disease at its premises, a hospital spokesperson said.
In the second case, a Noida resident who recently returned from Indonesia tested positive for COVID-19 taking the total number of positive cases in the district to four, Gautam Buddh Nagar Chief Medical Officer Anurag Bhargava said.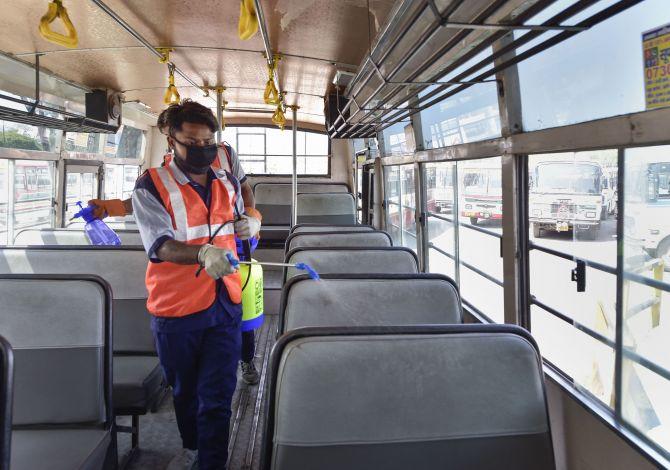 While the Central Board of Secondary Education directed board examination centres to ensure sitting arrangements with adequate distance between students to contain the coronavirus spread, the Uttar Pradesh government announced that students of classes one to eight of all government primary schools in the state will get promoted without having to appear in examinations that have been cancelled in view of the coronavirus outbreak.
Union Health Minister Harsh Vardhan held a review meeting on the containment and management of coronavirus, directing that teams be deputed to regularly inspect and monitor quarantine facilities.
The meeting was attended by senior health ministry officials, the directors or medical superintendents of central government hospitals such as Safdurjung Hospital, Ram Manohar Lohia Hospital and All India Institute of Medical Sciences-Delhi.
Vardhan reviewed the preparedness of hospitals in terms of availability of testing kits, personal protective equipment, medicines and isolation wards.
He directed hospitals to ensure adequate availability of protective gear for all healthcare workers.
Swiss firm Roche Diagnostics India received the license for conducting coronavirus tests after approval from drug regulator DCGI, making it the first private firm to get such permission after the government decided to allow accredited private labs to test for COVID-19, a senior official said.
In Parliament, the government informed the Lok Sabha that 276 Indians have been infected with coronavirus in other countries -- 255 in Iran, 12 in United Arab Emirates, five in Italy and one each in Hong Kong, Kuwait, Rwanda and Sri Lanka.
Several MPs in the Lower House raised the issue of Indian students stranded in the Philippines and demanded that the government take necessary steps for their evacuation.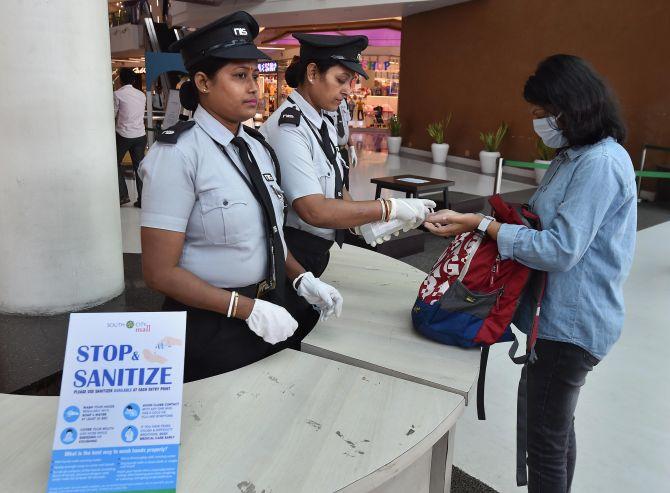 Opposition Rajya Sabha MPs demanded curtailment of the ongoing Budget Session of Parliament in view of the spread of coronavirus but the Chairman said any decision on it will have to be taken by the government in consultation with stakeholders.
However, when senior Congress leader P Chidambaram urged Naidu to allow MPs to decide on using protective gear depending on their perception of vulnerability, the chair agreed.
Former Union minister and BJP MP Suresh Prabhu self quarantined himself at his residence for the next 14 days as a precautionary measure following his return from Saudi Arabia to attend a meeting on March 10.
Sources said though Prabhu has tested negative for the coronavirus, he has decided to stay in isolation as a precaution.
United Kingdom's Acting High Commissioner to India Jan Thompson, in a video posted on Twitter, advised British nationals in India that if they have symptoms of coronavirus they should self-isolate for seven days and contact the Government of India's helpline in case their condition worsens.
In the national capital, the North Delhi Municipal Corporation is sanitising major temples, churches and gurudwaras while the Delhi Zoo administration shut the zoological party till March 31 in view of the pandemic.
The J&K administration announced closure of the Vaishno Devi yatra and banning of all inter-state buses as part of precautionary measures.
The district administration in Udhampur suspended all modes of public transport, while two major parks in Jammu and all public parks in Poonch district have been closed till further orders, officials said.
The Bharatiya Janata Party, meanwhile, decided not to hold any protest or demonstration for a month in view of the coronavirus outbreak, party president J P Nadda said.