What is Change really like in Bihar?
Once denounced as a failed state, what turnaround has Bihar made in recent years?
Archana Masih reports from India's other most talked about state.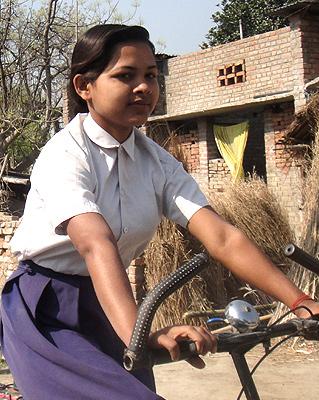 When our family of four made trips from Chhapra in north Bihar to grandfather's home in Chanpatia in the Champaran district 20 to 30 years ago, the trip took two train journeys, at times also a bus, and then a tonga ride from the station, which was a narrow platform with round benches under trees.
The story went that when the railway track was being laid, an angrez engineer on horseback used to supervise the work. One day, so busy was he looking at the construction that he missed a low-hanging branch of a tree -- his head got caught while his horse galloped ahead, leaving the sahib hanging.
Villagers whispered his 'ghost riding on a horse' haunted the railway line long after. As for the tamarind tree which still stood by the track -- it looked rather eerie on a full moon night.
That was another time. Few had heard of Chanpatia. That, I wager, has not changed even now.
But some things have.
The journey that once took a full day to cover a distance of 150 kilometres can be done in around four hours now. The road, barring a few rough patches, runs smooth with very little traffic -- mostly tractors, girls on cycles, bullock carts, village folk including children who should be in school, carrying cattle-feed on their heads.
Image: A girl on her way to a village school in North Bihar.
The vast stretches of green fields outnumber village dwellings and one can drive huge distances without spotting a tea shack. Of course, not finding chai en route is not something residents of Bettiah are willing to accept.
"My sharp eyes have seen many changes here, but chai is something you could always find along the roadside. The biggest change here has been communication. West Champaran had no roads, now motorable roads have improved, small villages have been connected to towns which has led to a change of lifestyles in villages," points out Rafi Ahmed Khan, who calls himself a humble teacher with a penchant for Urdu shayari.
"Now you can board a train at 3 and be in Delhi by 7 and this connectivity has impacted West Champaran," adds Khan, sitting with a group of friends in the clinic-cum-home of Dr Pradeep Sinha, a leading eye surgeon in Bettiah.
Dr Sinha's home, which is powered by a generator because there is no electricity, used to be the only house on that road at one point. Now there are two hotels, Axis and HDFC bank branches and V-Mart, a retail outlet present in smaller Indian towns.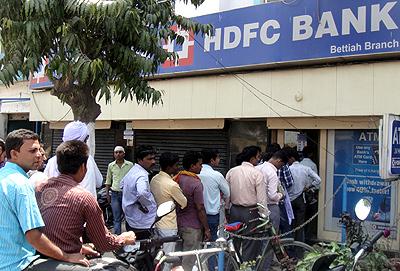 Bettiah was once the centre of the Bettiah Raj, one of the largest zamindaris or estates in Bihar. One of the town's well-known college is named after the last queen of Bettiah Raj.
The area is where M K Gandhi launched the Champaran civil disobedience against the exploitation of indigo farmers, which went on to become the earliest form of resistance against the British.
Surprisingly, Champaran does not feature in the national consciousness as prominently as Jallianwallah Bagh, the Dandi March or the Quit India Movement do. As the land where Gandhiji first began his struggle for India's freedom, it should.
Until a few years ago, says Dr Sinha, Bettiah only had a handful of X-ray clinics, but now medical facilities have improved. Eye surgeries that took residents to Patna and New Delhi can now be conducted here. Yet medical facilities are still insufficient -- there is not even a proper ICU in the district.
Image: People wait in queue to withdraw money from an ATM machine in Bettiah.
Sitting across Dr Sinha is Edwin Sharma, a young man with an education from one of Kolkata's best institutions. Involved in his family's educational enterprise, he feels things have not changed much.
"People have more money, but no taste. Even if big brands come here, they will suffer," he says. "Like in most small towns, those who leave don't return. Bettiah has a reputation for good schools, but college education is bad -- in fact, higher education is very poor in Bihar."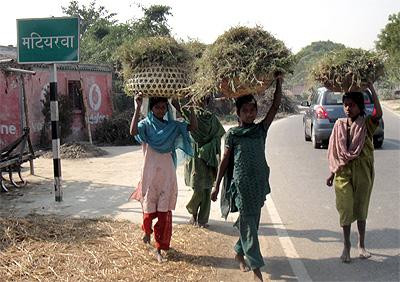 There are just three constituent colleges in West Champaran district; while there are 1,340 primary schools, 234 middle schools and 68 high schools, according to the official district profile. A medical and engineering college are in the government plan.
Father Francis Palli, principal of the well-known Krist Raja School is a Malayali who calls himself a Bihari after spending 40 years in the state. Many of his students, he says, have gone on to become doctors, engineers and civil servants -- the school is seeking its alumni's help to increase awareness about other job avenues for its current students.
Second year college student Rajender Sona, who lives in the vicinity, sits on his verandah with no electricity and warding off a swarm of mosquitoes, tells me he does not go to college. Lecturers and professors, he complains, don't show up.
Image: Girls carrying cattle-feed walk barefooted on a hot afternoon in Champaran
Sona gave up his Rs 8,000 job at a call centre in Pune to return because the money was not enough to get by. "And here there are hardly any jobs, no scope -- only government jobs," he says.
In towns and cities across Bihar, advertisements for coaching classes outnumber all others. Civil services, doctors, engineers, banks, defence services -- classes promise guaranteed success to students in a state where the government is the largest employer.
"The change now is that students are crazy about jobs. UPSC, BPSC, Medical, Engineering -- they want to study. They want to compete. I would say 60% students aim for these four exams," says Vishwaranjan, an enthusiastic doctoral student from Chhapra, who carries a visiting card which says he is a national youth awardee.
Vishwaranjan is sitting with a group of research scholars at his professor's home. It is a bunch hopeful about the future of a state that has long lagged behind the rest of India.
The ball has started rolling, the students feel. The time will come when the faculties will improve so much that students would not have to leave in hordes for Delhi, Noida and Bangalore. "It will take time. We need to be patient," they say.
As they leave, one-by-one they touch the lady professor's feet in respect -- an old value that some hearteningly hold on to in these parts of India.
Maybe the pluck of youth furnishes them with patience, but patience is a quality that seems to be running out for others who have borne witness to Bihar's rot for far too long.
"Things are changing in Bihar, but very slowly. Roads have seen maximum development, but electricity, higher education, industry still remains far behind," says S K Tiwari, a retired bank manager in Bettiah.
Then after a pause, he hesitatingly asks a couple from the Saran district who happen to be in the room -- "Don't mind me asking, but why do you keep voting Lalu Yadav back to power? In his 15 years, he took us back 50 years." Lalu Yadav, the former Bihar chief minister, is the Lok Sabha MP from Chhapra.
***
Nitish Kumar, the chief minister of Bihar, is in his second consecutive term. For the last seven years, he has led the state, scripting headlines with his thrust for development and his comparisons with Gujarat mascot Narendra Modi.
"From going downhill, we took a U-turn under Nitish Kumar," says Anjani Kumar Singh, principal secretary to the chief minister. "Hence people's expectations from him are very high in his second term."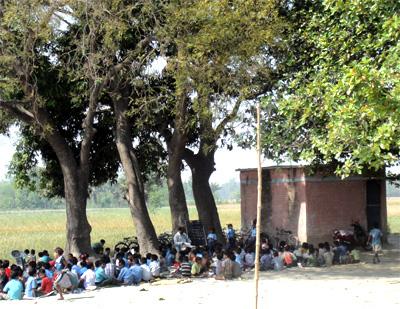 Listing energy, agriculture, +2 schools in each panchayat among the government's top priorities, Singh says 1,000 secondary schools will be built annually -- of which 250 are ready.
More than two-thirds of Bihar's panchayats have no secondary schools, the state's education minister had told the legislative assembly recently. With an average 3.9 children per woman, the state has the highest fertility rate in the country.
Singh, a civil servant with a six-year previous stint in Bihar's human resources department, says providing higher secondary education to girls automatically raises the marriage age and will lower fertility rate to 1.5.
While travelling through Bihar, one notices the fresh coat of paint on government buildings, presumably an outcome of Bihar Diwas, celebrated annually and begun by Nitish Kumar in 2010.
Image: Children study under a tree at a small village school
One also sees girls cycling to school, one of the most successful schemes of the Nitish Kumar government's previous tenure. "We undertook some bold schemes -- like the cycle, uniform -- what Bihar started, India followed -- but the fund crunch from the central government has hurt existing schemes and has been a hindrance in starting new ones," adds Singh.
Programmes like cycles, books, uniforms, mid-day meals have upped school enrollment, but has also led to reports of fake admissions. Moreover, the quality of education remains poor with enough examples of inept teachers hired on a contractual basis by the state government.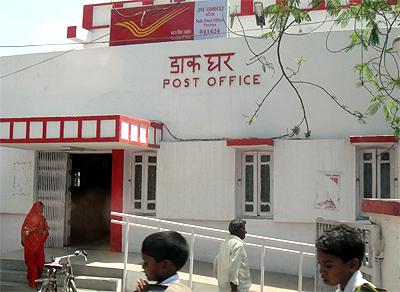 In seven years, many feel the state has only managed to get children to school with no due diligence on the standard of education. "I am afraid through government schools we are still creating haves and have nots," says a government official who would not like to be named for this report.
"What kind of education are we imparting?" the official asks. "We are talking about children here who will not aspire to be doctors and engineers, but peons, clerks and housewives. It's high time we think about this."
Over the years, the standard of government schools has deteriorated not only in Bihar but also in the rest of the country. Those who can afford it prefer sending their children to private 'English medium schools', rather than a government-run school.
Image: A district post office in Saran district
Things were not so always as many parents educated in government schools in villages and towns will vouch for. They will tell you how they went to school with a slate, a gunny mat tucked under their arms to sit on the classroom floor and how armed with that state-imparted education, they went on to make their lives in an India of the past.
What quality of education are we arming the children of government schools today -- in the new India? Why do the beautiful schemes of the government not bear true fruit in a rural classroom? How are these kids being equipped to compete in a highly competitive, fast changing India?
"The challenge before us is to improve the quality and we are trying to achieve this by different kinds of interventions like workshops and training of teachers etc. In two, three years we will see improvement," says Bihar Human Resources Minister P K Sahi, sitting at the education desk during Chief Minister Nitish Kumar's Janata darbar last month.
After the recent controversy about the appointment of vice-chancellors by the previous governor, Sahi felt that under new Governor D Y Patil (founder of several private colleges in Maharashtra) meaningful changes will take place in college education.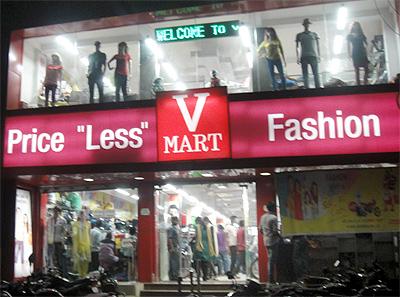 The plan is to transform 50 existing colleges into centres of excellence, but the minister does not give a time frame for it. "We have to provide academic ambience, build infrastructure. Higher education is resource starved, there is not enough to eradicate all maladies. It will take time," Sahi continues.
***
Funds, more of it, have been the focus of Nitish Kumar in the last few months. He took his demand right to the door of the central government when he held an 'Adhikar' rally in Delhi in March.
Rallies with names that would be advertisers's delight -- are not uncommon in Bihar.
Image; V Mart is a retail chain in smaller Indian towns
'Parivartan rally', 'Bihar Bachao rally', 'Lathi rally' 'Hunkar rally', 'Bihar ka Haq rally' etc are organised with great detail and are a show of strength by the state's political leaders.
Former chief minister Lalu Yadav booked 13 trains for his rally in Patna on May 15.
With the Centre on the verge of granting special status to Bihar, it will make way for more funds for a state its political class feels has been historically discriminated against right from the time of British India.
Its landlocked geography, dependence on the public sector, poor infrastructure, and absence of private investment are the reasons cited for its special status demand.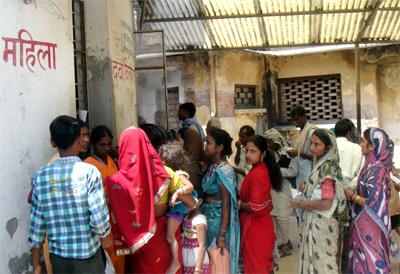 "We are a federal polity where the major resources lie in the Centre's kitty," says Minister Sahi, "You can't think of developing as a nation if you leave behind a population of 10.5 crores (105 million) in Bihar."
By way of pointing to the Centre's lop-sided development strategy, an observer draws the example of how Finance Minister P Chidambaram proposed an industrial corridor from Delhi-Mumbai-Chennai, a belt that is already fully developed -- when there is no such corridor from Kolkata to Chennai or Delhi to Kolkata where the deficiency exactly lies.
"So there is a clear central government development or allocation pattern to help those who already have it," says Professor Prabhat Jha from the Asian Development Research Institute, a think-tank in Patna.
"For Bihar this deficiency is much larger," Jha adds.
Image: Patients queue up to collect medicine at the government hospital in Chhapra
When Chidambaram visited Patna recently, Nitish Kumar drove with him in his personal car, reportedly dropping the finance minister off at the airport.

In a political environment where signs matter, the signs bode well for the chief minister's demand for more funds for his state.

Its arrival will also bode well for Nitish Kumar whose popularity has eroded in his second term. In a state where caste plays a defining role, a section of the upper castes has become disillusioned with Nitish Kumar.

The 'coalition of extremes' -- the upper castes and Dalits -- brought Nitish Kumar to power, but the traditional elite have not taken kindly to the chief minister's agenda of social justice.

"Nitish Kumar broke the hold of the elite on the lowest centre of power that was controlled by the elite even during Lalu Yadav's time," says Saibal Gupta, founder of the ADRI in Patna and a well-known political-economic commentator on Bihar.

"What is happening is that his supporters -- those who are benefitted -- are not visible. The upper class is not ready to accept him and can't digest how he can become a national and international model," says a senior state bureaucrat.

Giving reasons why Nitish Kumar's shine has worn off, an official in the chief minister's secretariat, mentions that seeing his performance in the first term, has raised people's expectations much higher the second time around.

If they expected 10 then, the people want 100 now, he explains.
Photographs: Archana Masih/Rediff.com
Part 2: 'Nitish Kumar is a one-man-show; isn't Gujarat also?'