The terrorists who struck at the Indian Air Force base in Pathankot on Saturday and who are believed to be from Pakistan-based Jaish-e-Mohammad terror outfit may have stationed themselves within the complex since January one itself apparently unnoticed.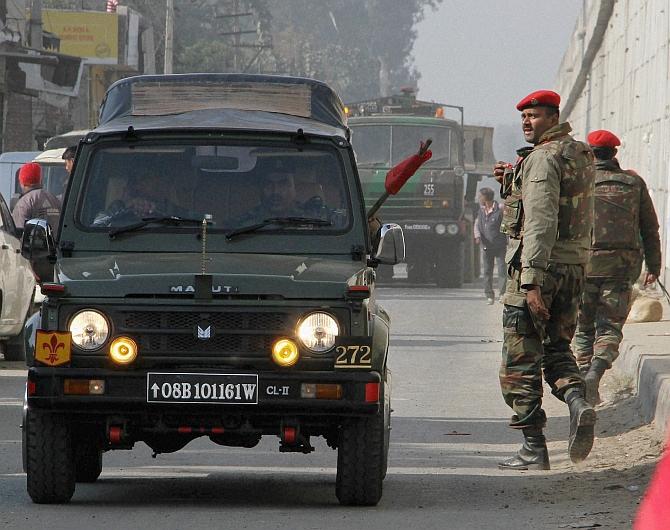 The terrorists, who sneaked into India on December 30 and 31 and made their way to Pathankot air base using the vehicle of a Punjab Police Superintendent of Police rank officer, are now believed to have entered the IAF campus on the afternoon of January one.
The attackers had hijacked the private vehicle carrying the Gurdaspur SP, his friend Rajesh Verma and the SP's orderly.
As the security agencies probed the sequence of events that led to the unsuccessful attack to target fighters and helicopters, it has emerged that the terrorists had "comfortably housed" themselves within the IAF campus during the day time, sources privy to the probe said on Sunday.
The cell tower for all the calls made by the terrorists from the mobile phone of Verma, a jeweller and a friend of the police officer whose vehicle was hijacked in the afternoon of January one and barely hours before launching the attack, were same, the sources said.
The calls made from the phone of Verma were routed through the same mobile phone tower throughout January one and the intervening night before the attack was launched, the sources said.
The terrorists, after breaching the security of the IAF base, had apparently hid themselves in the thick forest area of the campus which has an area of around 1800 to 2000 acres.
Officials termed it as a "serious security breach" which will be investigated only after the operation inside the campus is over and an all clear signal was received from the IAF authorities.
The IAF authorities have been asked to preserve the register of sentry duties of January 1 and a through questioning is expected once the operation is over, the sources said.