July 18 marks a decade since the landmark India-US civilian nuclear deal was struck.
Aziz Haniffa/Rediff.com reports on how Nicholas Burns, Washington's point person in the long negotiation on the nuclear agreement, believes that deal broke the seemingly insurmountable barrier in India-US relations.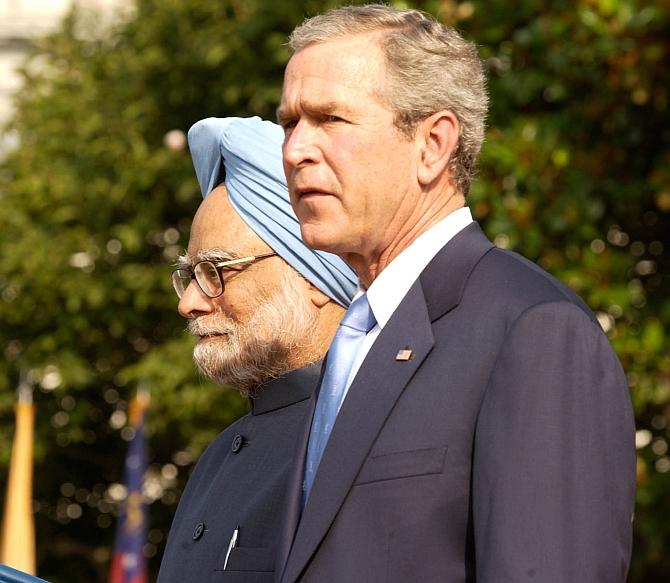 Nicholas 'Nick' Burns, Under Secretary of State for Political Affairs from 2005 to 2008, during which period he was Washington's point person in the negotiations on the US-India Civil Nuclear Agreement, is obviously frustrated that 10 years after the deal was mooted, it is still to be implemented.

In an interaction that followed after he led a discussion, Looking Backward, Looking Forward at the Carnegie conference, with Shyam Saran, his Indian counterpart in the early years of the negotiations, Burns made no bones about his disappointment.
"We need to finish the nuclear agreement, because as one of its negotiators with Ambassador Saran, I don't think we have finished it," Burns said.

India's nuclear liability law was a huge problem, Burns felt, and "we are just beginning to overcome the very lamentable legacy of the Indian nuclear liability law."

Apparently referring to the kick-off remarks at the conference by India's Ambassador to the US Arun Kumar Singh and Assistant Secretary of State for South Asian Affairs Nisha Desai Biswal, who expressed enthusiastic optimism that commercialisation of the deal is around the corner, Burns said, "We heard some nice words this morning and I hope it all happens, but we got to take that final step."

Burns is now professor of diplomacy and international relations at the Harvard Kennedy School of Government, where he serves as director of the Future of Diplomacy Project.
As faculty chair for the Programmes on the Middle East and on India and South Asia, Burns said every time he has been to India since he left the administration, "Somebody has asked 'What's the next version of the nuclear deal? What's the next big initiative?'"

"I am not sure we need one," he declared, and added, "The nuclear deal broke the great barrier... now we need to broaden and deepen the strategic relationship. I give Ash Carter huge credit as Under Secretary, Deputy Secretary, and now Secretary of Defence for deepening the strategic partnership."

"For me," Burns said, "that is an irreplaceable part of this relationship (defence and military), given the complexity of our respective relations with China. Again, we are partners with China, but we are also competitors."

Earlier, going down memory lane when he was asked if there was a moment during the protracted negotiations if he realised "we had it -- some point where you thought, this is it, we are finally on the downhill," he said, "We thought we had the deal when the 123 Agreement was successfully negotiated."

"But then (Shiv) Shankar Menon (who succeeded Saran as Indian foreign secretary) called me in October 2007 to say, 'We have got a major problem -- we have got a defection inside the prime minister's coalition and this whole thing may fall apart'."

After this, Burns recalled, "It took another year to put it together," again, but argued that all of these intense negotiations were clearly worth it because it was this "what led to the comprehensive strategic partnership that it is today."

"That if we could break through this symbolic barrier of sanctions and a dysfunctional relationship, we could do anything."

Burns also spoke of having to deal with Pakistan's angst over the US-India civilian nuclear deal, each time he visited Islamabad and why Pakistan could not have a similar agreement, and his answer would be, "No. (After) The A Q Khan network -- not a prayer of having a (US-Pakistan) civilian nuclear agreement."

Although the US did not have diplomatic contact with the Iranians, he recalled "they (the Iranians) complained about the US-India civilian nuclear agreement."

"So we went off to territory that we had really not dug into as two countries on a strategic basis, and what's beautiful about the last 10 years in a city here that's rarely bipartisan, is this revolution the relationship produced by President Bush and President Obama. And on the Indian side by the Congress and the BJP."

Consequently, Burns said, "There is a solidity to it and politically, and in both countries is very important."

"A second lesson we have learnt about our respective global interests is the fact that on a lot of strategic issues, particularly in Asia, we are aligned, but are not allies."

"That was, I would say, something we had to learn," Burns acknowledged. "Could we have a great power relationship with another democracy with which we were aligned but not allied? Could we have a respectful and equal relationship? The United States is used to leading the NATO alliance, we are used to leading with Japan, Australia, South Korea, our defence partnership with the Philippines -- we are the bigger country."

But, he said, "There was no question that that was going to be a successful recipe with India."

"So, what we had to do was, Secretary (of State at the time, Condoleezza) Rice and I and others, Steve Hadley (then National Security Adviser), be very careful to recognise when we could agree and when we couldn't agree -- there were things that India could do and could not do."

But he acknowledged what a great relief it was when India voted in the board of governors meeting of the International Atomic Energy Agency, "essentially to call Iran on the carpet (for violations of its nuclear non-proliferation commitments). That was an early sign that there was going to be a strategic alignment between our two countries."

Burns implied that it was a no-brainer that "If we had not been able to establish a US-India essential agreement that Iran had violated its international commitments, that Iran had to be subject to IAEA sanctions and inspections, I don't think the Indo-US civilian nuclear agreement would have been passed by Congress."

"That was the litmus test," he said. "India answered it and that was a big moment."
Image: Then Prime Minister Dr Manmohan Singh with then US President George W Bush at the White House, July 18, 2005. Photograph: Paresh Gandhi/Rediff.com