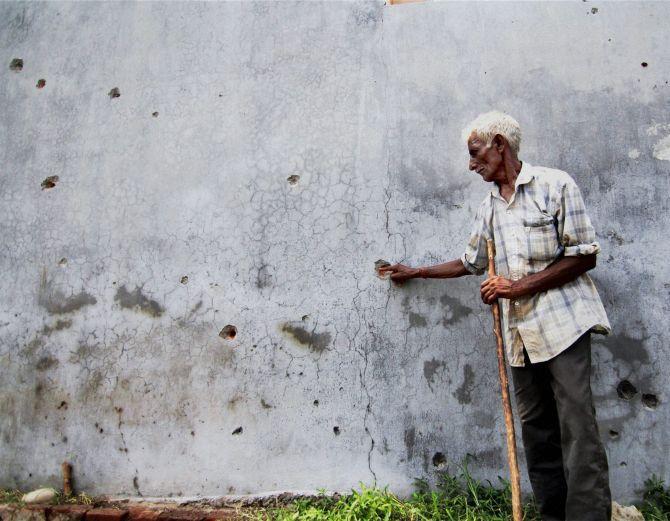 A villager looks at shell marks allegedly caused by firing from Pakistan side at Raipur Sazdian village, in Jammu. Photograph: PTI
Residents along the International Border in Jammu, who were hopeful of reaping dividends of the latest peace talks between Prime Minister Narendra Modi and his Pakistan counterpart Nawaz Sharif in Russia, were left shell-shocked amid a fresh spurt in ceasefire violations.
"All our hopes have been shattered, the border residents suffer whenever there is a ceasefire violation from across the border," said Sham Lal, a resident of R S Pura.
The mainstay profession of majority people in this frontier sector on the IB is farming and occurrence of a ceasefire violation at a time when they were transplanting paddy crop has put them in a fix.
"Our sustenance depends on farming and it is the season of transplanting paddy plants but now we are afraid to venture into our fields, as we don't know when we would become a target of Pakistani fire," said Prem Singh, a resident of Abdullian village of R S Pura sector.
Pakistani Rangers on Thursday indulged in heavy firing and mortar shelling on five border outposts and some villages in Jammu district which left four persons injured, a day after a woman was killed in the ceasefire violations prompting India to lodge protest with Pakistan.
According to a BSF official, "Pakistani Rangers resorted to small arms firing and mortar shelling along IB in R S Pura sector of Jammu district since 0115 hours today."
They targeted five BoPs and some civilian areas in R S Pura and Tawi forward belts, the official said adding that Pakistani Rangers fired 81 mm mortar shells at around 0350 hours.
Several households along the IB sustained damages in the overnight mortar-shelling from across the border, local residents said.
"You can clearly see the damage caused by the Pakistani mortar shells that landed into our courtyard, we are thankful to God that nobody was hurt or killed in our family," said Puran Chand, while pointing towards the shattered windowpanes of his house.
Several village dwellers in this sector have started migrating to safer locations while many others are planning to migrate at the earliest.
"Some of the villagers have migrated to safer places while others will be moving shortly," Chand said.
Meanwhile, Jammu administration has appealed to the border dwellers to move to safer places to save them from the cross-border firing.
"Though the firing has stopped by now, it started last night and continued till morning today, four civilians were injured in the Pakistani firing. Several houses were also damaged in the Abdullian sector which was the worst affected," Deputy Commissioner, Jammu, Simrandeep Singh said.
"We are not forcing as yet but we made an appeal to the people to move to safer areas as the situation continues to be volatile on the border," he said adding that some of the families have already shifted to safety.
The latest ceasefire violation foiled by the BSF, Singh said, was an attempt to provide cover fire to a group of infiltrators who were planning to cross into the Indian side.
"It was an infiltration attempt which the BSF has foiled, Pakistani rangers were giving a cover fire to the infiltrators," he said.
There have been nine ceasefire violations in the month of July so far.
A woman named Poli Devi, was killed and six others, including two BSF jawans, were injured on Wednesday in firing and mortar shelling in Jammu district by Pakistan Rangers.
The residents, meanwhile, have kept their fingers crossed praying that the ceasefire violations do not escalate and they resume normal life.
"Our livelihood depends on farming and this is the peak season, we hope and pray this ceasefire violation ends, so that we can continue with our routine life," said Manjeet Singh, a resident of Abdullian.