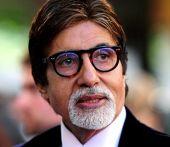 Shalini Thackeray, general secretary, Chitrapat Karmachari Sena, the cine wing of Raj Thackeray's Maharashtra Navnirman Sena, told rediff.com that the MNS is not targeting ABCL chairman Amitabh Bachchan in its bid to strengthen its position for the upcoming civic polls in Mumbai in 2012.
MNS activists stopped the shooting of ABCL-produced Bbuddha in Mumbai on Tuesday under the pretext that the unit had illegally employed 47 foreign nationals whose visas and work permits had expired.
The Chitrapat Karmachari Sena also lodged a police complaint against two coordinators who it claimed were responsible for acting as intermediaries between the film's producers and these foreign nationals.
Soon after its inception in 2008, the MNS shot to fame when its president Raj Thackeray took on Amitabh Bachchan asserting that the superstar 'was more interested in the welfare and development of Uttar Pradesh from where he originally hails while neglecting Maharashtra where he gained fame and wealth.'
"We are not targeting Mr Bachchan. Had it been anybody else, we'd have done the same thing," she said adding, "We protested even against Ritesh Sidhwani, the producer of Game, on the same issue."
Interestingly, the director of the film, Puri Jagannadh, in a letter written to MNS president Raj Thackeray has tendered an unconditional apology and assured the party that "this (hiring of illegal foreign nationals) shall not happen in the future and (we, the producers) will perform all activities as per the law without hurting anyone's sentiments."
However, Shalini Thackeray said that they will not let the shooting commence unless the Shivaji Park police station at Dadar, in central Mumbai, lodges a formal complaint against the two coordinators and suppliers named in their complaint.
Ameya Khopkar, president of the Maharashtra Navnirman Cine Workers' Association, confirmed that the Shivaji Park police station, under whose jurisdiction the shooting was being panned, has lodged a complaint against the two coordinators.
Khopkar, however, said that the film producers had not sought the permission of the local police station before shooting in the area.