In a landmark judgment, after months of deliberations, the Supreme Court on Thursday struck down the Section 377 of the Indian Penal Code, which criminalised homosexuality.
A five-judge Constitution bench, headed by Chief Justice of India Dipak Misra and comprising Justices D Y Chandrachud, Rohinton Fali Nariman, A M Khanwilkar and Indu Malhotra in its verdict said, "Criminalising gay sex is irrational and indefensible."
Following this historic judgment, reactions poured in on Twitter, celebrating the verdict.
Here are some of them.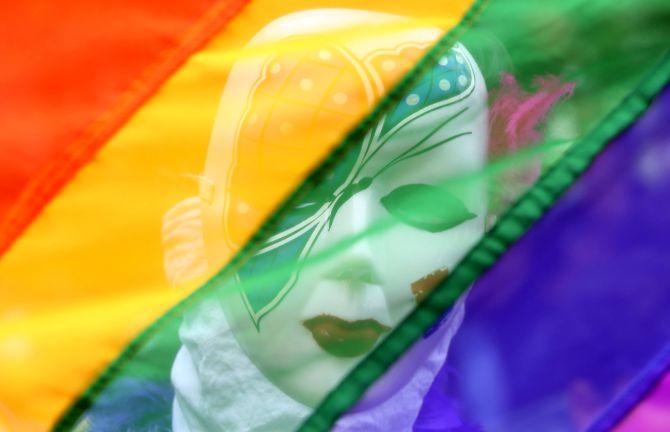 Photograph: P Ravikumar/Reuters
"Like the Supreme Court's verdict, we also do not consider this (homosexuality) as a crime. But gay marriage and such relationships were not compatible with nature"
-- Rashtriya Swayamsevak Sangh
"Historical judgment!!!! So proud today! Decriminalising homosexuality and abolishing #Section377 is a huge thumbs up for humanity and equal rights! The country gets its oxygen back!"
-- Karan Johar, Bollywood director-producer
"So pleased to learn that the Supreme Court has ruled against criminalising sexual acts in private. This decision vindicates my stand on Section 377 and on exactly the same grounds of privacy, dignity and constitutional freedoms. It shames those BJP MPs who vociferously opposed me in Lok Sabha."
-- Shashi Tharoor, Congress leader
"And there its gone!!! Congratulations to the #LGBTQ community for decades long battle. Congratulations to CJI Dipak Misra & the bench for making India a better democracy today. Here's to what the end of #Section377 symbolises - #FreedomToLove #RightToEquality #Liberty"
-- Barkha Dutt, journalist
"We have finally got justice. We are finally 'azaad in azaad Hind'."
-- Ashok Row Kavi, LGBT rights activist and founder of Humsafar Trust
"We join the people of India & the LGBTQIA+ community in their victory over prejudice. We welcome the progressive & decisive verdict from the Supreme Court & hope this is the beginning of a more equal & inclusive society."
-- Congress
Congratulations to all the activists and petitioners on #SupremeCourt judgement scrapping #Section377 Your perseverance just made #India a freer place for everyone ! #LoveIsLove #Pride #377Verdict #377Scrapped Three cheers for the #SupremeCourt
-- Swara Bhasker, Bollywood actor
"India is a country where the culture changes every 100 km. Accepting diversity has to be the core value of every Indian and frankly is the only way India will survive and thrive. Scrapping #Section377 is a step in that direction. It is a good day for India."
-- Chetan Bhagat, Author