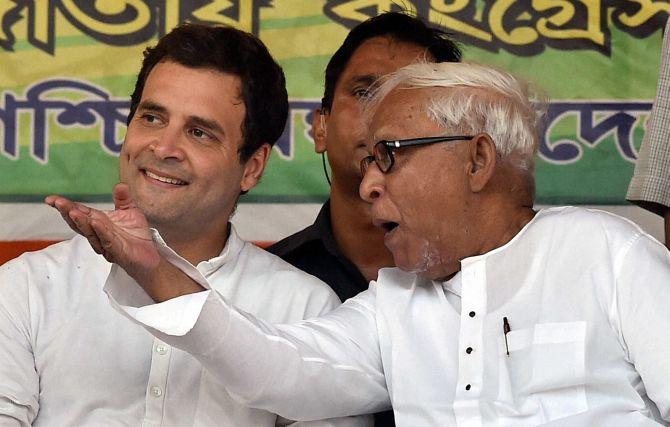 IMAGE: Congress Vice President Rahul Gandhi and CPI-M leader Buddhadeb Bhattacharjee at a joint election campaign rally in Kolkata. Photograph: PTI
Striking a rare show of bonhomie, Congress Vice President Rahul Gandhi on Wednesday shared the stage with veteran Communist Party of India-Marxist leader and former Chief Minister Buddhadeb Bhattacharjee amid slogans calling for long life for the Congress-Left unity to save Bengal.
As the supporters of both parties shouted slogans in favour of the alliance, Gandhi was seen holding hands of Bhattacharjee, whom the former chief minister twice addressed as "dear Rahul Gandhi".
A huge garland was placed around the two leaders, the architects of the Congress-Left alliance.
Acknowledging that it is a rare show, Bhattacharjee said as much, "People of Bengal have seen many rallies. But this rally where I stand together with Rahul Gandhi is rare in history. The Congress and CPI-M are fighting together."
Justifying the need for the alliance, Bhattacharjee explained, "Why are we standing together? Because Bengal is facing a grave danger and we all need to fight together to save Bengal."
Bhattacharjee and Gandhi both waved at the crowd who raised slogans, "Trinamool Hatao Bangla Bachao" (remove Trinamool, save Bengal).
The red flag fluttered along with that of the Congress and giant cut-outs of the two leaders adorned the platform on the ground.
"We can't fight alone, that is why we have to fight together against the government of anti-socials. This government has destroyed the economy of the state. Whether industry or mills, nothing has come up in the preceding five years. They are trying to rule by creating terror, by initimaditing media and political parties," Bhattacharjee said.
Bhattacharjee reminisced about how former Prime Minister Rajiv Gandhi had helped the CPI-M-led Left Front in setting up Panchayat system in Bengal.
"We need to stop this misrule and misgovernance. We will bring back democracy. We want industry for the lakhs of unemployed youths of Bengal. We need to bring back the democratic set-up," he said.
Rahul Gandhi launched attack on both Prime Minister Narendra Modi and Chief Minister Mamata Banerjee, saying they had not taken any action against corruption and made "false promises".
"Poor people's money was swindled by Saradha chit fund company, but Mamata ji has not taken any action. Rather, she protected those involved in it," he said.
Both Gandhi and Bhattacharjee expressed confidence about the victory of Congress-Left alliance.
Rahul Gandhi too targeted Banerjee while he vowed all-out support for the alliance candidates.
"The symbol of this Mamata Banerjee government is corruption. The collapse of the Vivekananda Road flyover is symbolic of the corruption prevailing in the West Bengal government," he said.
According to Gandhi, the alliance is against corruption. And once it is in power, it will ensure that the guilty -- be it the building material supply cartels responsible for providing sub-standard materials in flyovers, those involved in multi crore Saradha scam or the legislators and leaders allegedly caught taking bribes in Narada tapes -- will be brought to book.
"Mamataji you failed to take action against corruption in the last five years. But the alliance will not fail after we come to power. All those guilty will be punished. It is a promise," he said.
Gandhi also tore into Banerjee's oft-repeated phrases of "concocted incidents" and "false claims".
"The only thing concocted is your development claims in Bengal. What is fake is your mock-fights with PM (Narendra) Modiji," he said.
Gandhi also lashed out at Modi for not visiting the drought-hit Vidarbha and taking on foreign tours.
"Modiji does not have time to visit drought-hit Vidarbha, but is visiting foreign countries. He didn't keep his poll promise of giving Rs 15 lakh to every Indian. Rather, he is wearing a suit of Rs 15 lakh," he said.