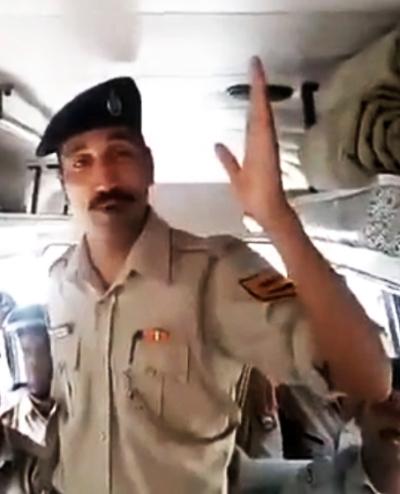 A video of a patriotic poem penned and recited by a head constable of Himachal Pradesh police has gone viral on the social media.
Though it was uploaded by Head Constable Manoj Kumar on 'Kargil Day' (July 26), but video went viral in the aftermath of the Uri terrorist attack on Sunday.
The video is being shared by thousands of people on Facebook, WhatsApp and other social networking websites and the family members of Manoj, who is currently posted at Kinnaur, came to know about it from others.
The 130-second video with Manoj reciting the poem was shot on a bus carrying police personnel.
The video sends a warning to Pakistan that any "misadventure" would "wipe it out from the world map".
It says, "abki yudh hua to Kashmir to rahega par Pakistan nahin hoga" (if there is another war, Kashmir will survive but Pakistan won't) and "hum Pakistan ke bomb se nahin, Tashkent aur Shimla samjhauton se darte hain" (We are not scared of Pakistan's bombs but of Tashkant and Shimla pacts) and reminds Pakistan of its defeats in the hands of the Indian army in
1965, 1971 and 1999.
"Remember the 90,000 prisoners of the 1965 war and the favour of Indira (Gandhi)," the poem says and warns, "There would be India on both sides of the Indus river and the Indian flag would fly over Islamabad."
Pay your respects to the Uri martyrs. Click HERE to light a candle