Akhilesh believes his catchment area is the 4.1 million new voters who are 18 to 19 years old, reports Sahil Makkar.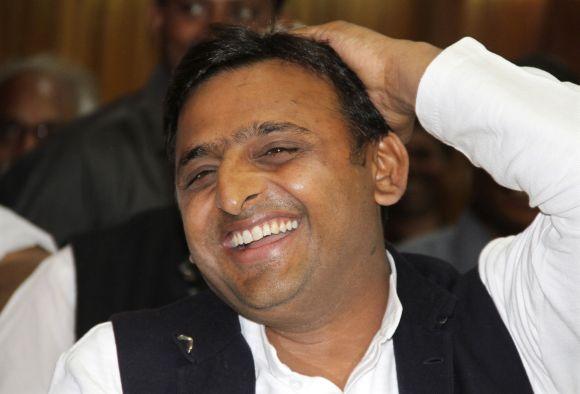 Uttar Pradesh Chief Minister Akhilesh Yadav's attempt to split with his father, Samajwadi Party patriarch Mulayam Singh Yadav, and uncle Shivpal Yadav is being seen in some quarters as a means to conceal his government's lacklustre performance and let out the impression that the older generation is holding him back.
The economic and social indicators analysed by Business Standard suggest that the state performed better during Mayawati's tenure as chief minister (2007 to 2012) as compared to that of Akhilesh (2012-17).
Uttar Pradesh registered an average annual growth rate of 7 per cent when Mayawati was in power, whereas it was 5 to 6 per cent during SP rule.
While farm growth during the two regimes is comparable, the services sector failed to expand during Akhilesh's tenure.
Services-sector growth was 20.41 per cent during the Mayawati government's first year (2007-2008), falling to 8.67 per cent in the year her reign ended (2011-2012).
Akhilesh was unable to arrest the slide and, in the first year after his ascent to power, growth plummeted to 5.85 per cent.
While it picked up in 2014-2015 at 7.85 per cent, it was unable to top the highs of the Mayawati regime.
The SP government performed a shade better than its predecessor in managing the fiscal deficit.
However, the ratio of social expenditure to the total was almost the same in the case of both.
On other social parameters, including ending crime and nabbing criminals, Mayawati had outperformed Akhilesh.
Violent crime recorded a sharp increase in the first two years of Akhilesh taking office in 2012.
The biggest blot on his government was the Muzaffarnagar riots, in which 62 people were killed, and the lynching of a Muslim man for allegedly storing beef in his house in Dadri.
"The fight within the SP could be to protect Akhilesh's public persona and hide the underperformance of his government. Akhilesh is doing it to capture the votes of the aspiring youth, which is comparable to the tactics of Prime Minister Narendra Modi during the 2014 Lok Sabha elections," says Jai Mrug, psephologist and political analyst.
However, S K Dwivedi, former political science professor at Lucknow University, says it is Advantage Akhilesh.
"Mayawati might have performed better on economic and social indicators, but Akhilesh's government enjoys a relatively clean image and has undertaken some big ticket projects," he said, adding, "SP stalwarts did not allow him to work and, therefore, Akhilesh should not be judged harshly."
Though political analysts might give Akhilesh the benefit of doubt, the Comptroller and Audit General has come down heavily on his government.
In recent reports, the CAG has said that every second child in Uttar Pradesh is undernourished and 52 per cent of pregnant women are anaemic.
The CAG audited 11 women-related schemes during 2010-2011 to 2014-2015 in 20 districts and found the state had no provision for gender budgeting.
'The Uttar Pradesh government has failed to adopt gender-based budgeting even after 10 years of its declaration of State Women Policy in 2006,' the CAG noted.
The auditor found funds in most schemes for women were either unutilised or partially utilised.
One such scheme relates to rape victims, to whom the state government failed to provide assistance.
'The allocation of Rs 15.03 crore by the Government of India under the Financial Assistance and Support Services to Victims of Rape was not utilised by the state, though 3,544 cases of rape were reported in the state during the same period.'
'Out of the 18 cases for sanction of compensation under The Uttar Pradesh Victim Compensation Scheme, only two cases have been awarded compensation and remaining 16 cases are pending for four to 20 months as of December 2015,' says the CAG.
Similarly, the state government utilised only 11 per cent of the funds allocated during 2010-2015 for creating facilities for medical termination of pregnancy.
'Only 6 per cent of 773 community health centres in the state were having facilities for the medical termination of pregnancy. As a result, majority of the women in rural areas had no access to safe abortion services at affordable cost and at reasonable distance from their habitation,' the CAG report said.
Worse, most rural women are still dependent on unskilled birth attendants for delivery.
'There was a shortage of government health centres in the state as only 773 CHCs, 3,538 PHCs and 20,521 Sub centres were functional as on March 2015 against the required number of 1,555 CHCs, 5,183 PHCs and 31,100 Sub-centres respectively indicating lack of government health facilities in rural areas,' it said.
The report went on to say that amenities such as toilets and drinking water were missing in 43,600 Anganwadi centres (AWCs) and drinking water in another 53,757 AWCs.
Anil Singh, a Faizabad-based political analyst, said Akhilesh had failed as chief minister.
"He failed to take even small decisions which are required to run the government smoothly. He, however, has done things to benefit certain sections of society and is expecting their votes in the coming elections," Singh said.
One such scheme relates to distributing free smartphones to people who are 18 and above.
The state government has justified the scheme, saying that smart phones will keep people posted on government schemes in audio and video format.
This idea has been borrowed from the SP's previous poll promise of distributing free laptops to students, and this is believed to have been the clincher in propelling the SP to power.
Voters say the SP will keep its smartphone promise on the strength that the party has distributed 1.8 million free laptops.
Akhilesh believes his catchment area is the 4.1 million new voters who are 18 to 19 years old.
The gamble had paid off in the 2012 assembly elections, with the SP winning 224 seats of the 403 seats in the UP assembly.
He hopes to repeat the feat and believes he has no competitors in this field.