Zahid Hussain has been instrumental for the Indian Mujahideen for making a come back after being beaten down by security agencies. Vicky Nanjappa reports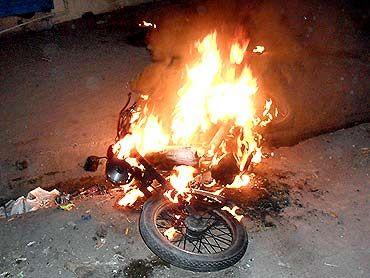 The arrest of Indian Mujahideen operative Zahid Hussain in Kokalta is significant for Indian security agencies. Hussain has been a key IM operative for the last 6 years, who has been involved in finance, infiltration and smuggling of arms and ammunition for the outfit.
The operative of Bangladeshi origin, who is suspected to be involved in the 2010 German Bakery attack in Pune, will be handed over to the National Investigation Agency.
The NIA has very little information on Hussain and has not been mentioned about much in the interrogation of arrested operatives. Although he is said to have remained in touch with several IM operatives, he was particularly close to Tehsin Akthar, the second in command to IM co-founder Yasin Bhatkal.
Hussain has been instrumental in the Indian Mujahideen making a come back after it had been beaten down by security agencies.
The arrest of suspected bomb expert Mansoor Pheerbhouy and disappearance of Abdus Subhan were set backs to the organisation, which had been carrying out blasts at will. The IM had been trying to regroup and was desperate for funds.
IM used the services of Hussain to bring in funds through Bangladesh. He created a network between Bangladesh and India through which fake currency was smuggled in. It is believed that he managed to get Rs 30 lakh for carry out the German Bakery blasts.
The police suspect Hussain may have come down to India to activate some of the modules following the arrests of several top IM operatives.
The IM considers states like Bihar and West Bengal easy to operate from. The route between WB and Bangladesh still is a concern for the agencies.
Hussain could have come to India to make arrangements for the IM which is desperate to make a come back, said an officer with the Intelligence Bureau.