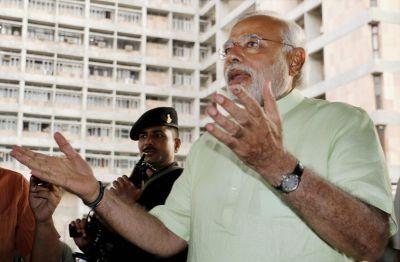 He also named Vallabhbhai Patel, Bhagat Singh and Mahatma Gandhi among the political leaders he admired in an interview to a Seychelles newspaper
Prime Minister Narendra Modi, known to keep the Indian media at a distance, tweeted on Tuesday that he was asked by a Seychelles newspaper whether he could cook.
Speaking to Today of Seychelles, a country he had visited earlier this month during a three-nation tour, Modi said cooking had become a habit as he stayed on his own for long.
"By nature, I like to do a thing well," the PM said, and it was so with cooking. Modi tried his hand at it even as chief minister of Gujarat, according to the interview, loaded with celebrity-style lifestyle questions.
"I grew up in a milieu where dreams were not affordable," Modi said, when asked what he had dreamt of becoming. However, 'service of others' has been a constant thought, he told the newspaper.
There's no space for fear in his life, he said to a question on what the biggest fear was for him. The PM admitted something akin to fear when he said he should not become a burden for anybody until his last breath.
Modi named Vallabhbhai Patel, Bhagat Singh and Mahatma Gandhi among the political leaders he admired. Patel for his efforts to unify and integrate India, Gandhi for the freedom movement and Singh for his valour and sacrifice, he elaborated.
If he had to choose three ideal guests for dinner, who would they be? Vivekananda, Ramakrishna Paramahansa and Ramana Maharshi was the reply.
Among the other favourites the PM was quizzed on included his favourite place in India. The Himalayas, he said. And, his favourite quote is Satyameva Jayate (truth will triumph).
The PM has not mentioned any specific book that changed his life, while he spoke at length on scriptures and epics. "In our culture, we are taught to imbibe the best thoughts from all scriptures."
According to Modi, the journey of life is evolutionary and not revolutionary.On the ideal holiday destination, he did not give any name, stating 'every place has been special'.
On hobbies, Modi said he liked to meet a range of people and learn from their experiences. His earliest memory is of a small town in Gujarat, where he grew and lived for years. He also spoke of his modest background in the interview.
To a question on what he would try to save if his house was on fire, Modi's reply was straight and without any punch. He would ensure the fire does not spread and in the process, save a lot.
The PM talked about movies, too. He spoke of Dev Anand's Guide as one he had watched with friends. The theme had triggered an argument on whether everyone gets guided by his or her inner soul. "Since I was too young, my friends did not take me seriously."
Yet, Modi opted for childhood and its innocence, when asked what if he had to go back in time!