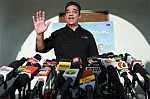 The tripartite talks to break the impasse over the screening of Tamil movie 'Vishwaroopam' will take place on Saturday with the participation of actor-director Kamal Haasan, who returned to Chennai from Mumbai.
The meeting between Muslim groups, Haasan and state Home Secretary R Rajagopal did not take place on Friday as the Muslim groups insisted on the actor's presence.
"The meeting is scheduled on Saturday afternoon at the secretariat," said Mohammed Hanifa of the Federation of Tamil Nadu Muslims Social and Political Organisations.
The federation is up in arms against screening of the movie for its alleged anti-Muslim content and wants deletion of some scenes.
Haasan, who was in Mumbai for the premiere of the Hindi version 'Vishwaroop' and arrived in Chennai on Saturday, said the film is receiving "fantastic" response in North India.
The initiative to break the logjam came after Tamil Nadu Chief Minister Jayalalithaa on Thursday had defended the ban, which had stirred a national controversy. She, however, had offered to facilitate an amicable settlement if both the parties came together.
The Rs 100-crore movie, made in Tamil, Telugu and Hindi, was earlier scheduled to hit the screens on January 25 in Tamil Nadu.
Haasan had last Tuesday secured an interim relief from a single judge of the Madras high court who had allowed the film's release, but a division bench had set it aside. The matter will come up for hearing on February 6.