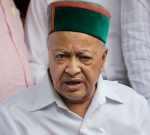 Virbhadra Singh, who steered the Congress to power in Himachal Pradesh, will be sworn in as chief minister for the sixth time in a function at historic Ridge Ground in Shimla on December 25.
Governor Urmilla Singh has invited the 78-year-old Congress leader to form the government and take oath on December 25.
Singh, however, would take oath alone and constitute the council of ministers later after consulting the party high command.
Singh had a long meeting with All India Congress Committee general secretary Janardan Dwivedi, who was deputed as the observer by the party high command for Congress Legislature Party on Saturday evening and discussed several important issues.
Singh, after the election as CLP leader, told media persons that his ministry would be a three-tier one and "fully representative".
"All sections and regions, young and old would be included in the ministry," he added.
When asked about the next speaker of the state assembly, Singh said he has three persons in mind but would not divulge the names at this time.
The Congress has 36 MLAs in the 68-member house and one independent MLA has extended unconditional support to Singh.
Singh was chief minister between 1983 and 85; 1985 and 1990; 1993 and 1998 and 2003 and 2007.
In his five-decade long political innings, he has been a seven-time MLA, a five-time MP and five-time chief minister. He has also been a four-time President of the state Congress and represents the Mandi seat in the present Lok Sabha.