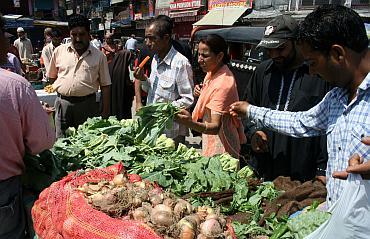 Sporadic incidents of violence in the Valley which erupted with the announcement on Friday evening of a 24-hour break in the curfew forced the administration to re-impose curfew and restrictions in parts of Srinagar and in some other towns on Saturday morning.
Only a couple of thousand people could offer prayers and pay obeisance at the historic Hazratbal shrine on the major Muslim festival of Shab-e-Miraj, as devotees couldn't reach there because of curfew and violence. The police had on Friday afternoon dispersed a sloganeering mob who shouted pro-freedom slogans inside the shrine after the friday prayers.
This is for the first time in the history of the shrine that such a small number of devotees could offer prayers at the shrine which would otherwise be thronged by lakhs of people from all over the Valley on this festival. Police and security forces fired warning shots and resorted to repeated teargassing and baton charges to disperse a huge procession which was on way to Hazratbal shrine on Friday afternoon.
The procession which began from the historic Jamia mosque led by the moderate All Parties Hurriyat Conference (APHC) chairman Mirwaiz Moulvi Umar Farooq tried to march to the shrine which was, however, foiled by the security forces. While addressing the rally, Mirwaiz asked people to continue peaceful protests in their respective localities so that human rights violations are halted.
The procession was joined enroute by hundreds of youth who shouted anti-India and pro-freedom slogans. The eruption of violence in parts of capital city where mobs indulged in stone pelting on the security forces prompted the authorities to impose curfew-like restrictions in parts of the city.
Curfew was also re-imposed in the key south Kashmir towns of Pulwama, Kakpora, Anantnag, Sopore and Baramulla towns.
Thousands of people came out of their homes early morning to shop for various essential commodities, medicines, baby food, milk, poultry products, mutton, fresh vegetables, the shortages of whom had hit the households here during the curfew period in various localities where some shops had opened. Public transport remained off the roads and shops, businesses were shut in capital city and other towns.
Meanwhile the local press decided to suspend their publications against what they said harassment by the state administration. The local journalists who were joined by their editors and Srinagar based journalists working for various national and international newspapers and agencies as also the photo-journalists staged a protest sit-in at the press enclave in Srinagar.

Image: People use the break in curfew to stock up on essential items in Srinagar.

Photograph: Umar Ganie