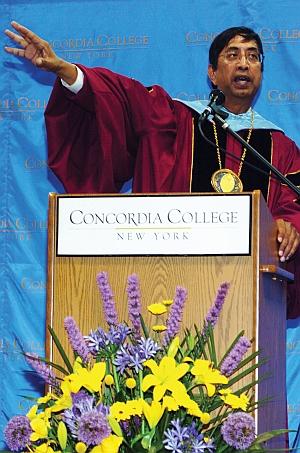 After a search for a few months for a new leader, Concordia College in Bronxville, New York has announced that Dr Viji George, the current college president, has agreed to continue. George Joseph reports
When George, a native of Tamil Nadu, was appointed president of the college in 1999, he was one of the first Indian Americans to reach that level in the higher education field.
He was planning to leave the position by next year when the contract ends, and the board of regents started a nationwide search for a replacement.
"I first stepped down because I felt strongly that the CEO of an institution must step aside after 15 years to bring new vision and blood," George, who was in Myanmar, said in an e-mail to India Abroad.
"The board came back to me and said that they did not think this was the right time and wanted me to bring to completion many of the initiatives we had undertaken."
Concordia is one of 10 institutions nationwide making up the Concordia University System of the Lutheran Church-Missouri Synod.
During George's presidency, the 130-year-old Lutheran college experienced steady growth. Operating revenues more than doubled, and enrollment grew by 44 per cent.
"We are delighted that Viji has agreed to continue his strong leadership of Concordia," Jean Hanson, board chair, Concordia, was quoted as saying.
"Following a several month search for a new president, the board determined that the best result for the college was to stay with a proven, dynamic leader who is a passionate spokesman for the college, who knows the college well, and who will be able to help Concordia capitalise on the exciting opportunities before it. Most fortunately for Concordia, Dr George agreed," he said.
George looks forward to pursuing pending and new initiatives.
"We have begun several articulations with international colleges in China, Korea, India and the like," he explained.
"These initiatives will bring highly qualified students to Concordia to add to our international mix." "Currently over 15 per cent of our student body comprises international students. We have just received state approval for a new graduate program in business leadership, and are seeking approval of other new offerings that build on our core competencies and address market needs."
"My family and I look forward to remaining here at Concordia in Bronxville, which has been our home for over 30 years." George said he was worried about the higher education scenario in the United States.
"Access to quality and affordable higher education has been one of the keys to American success," he said.  "However, the rising cost of higher education has increasingly made it an unaffordable and illusive dream to many."
"Finding ways of helping families fund their children's college education must become a priority. The current economic model is becoming much more unsustainable," he added.
Before becoming president, George served in the Concordia faculty as a professor of psychology and in senior administrative posts for two decades. Under his direction, the college added its first graduate degree program in special education, launched an acclaimed nursing program, and received several of the largest gifts and grants in its history.
The college invested in its facilities, including a recent $5.6 million state-of-the-art energy savings project. George also spearheaded initiatives that strengthened the college's ties with the local community through programs like the Business Breakfast series and Travel and Learn trips to India and elsewhere.
His wife Janet, a Concordia alumna, is co-founder and co-owner of The Silk Road, a home and apparel boutique.