Russian artiste Elmar Rajsur, 31, is very delighted to be in India, the land of Hindi. He earns his living in Russia by singing Hindi songs.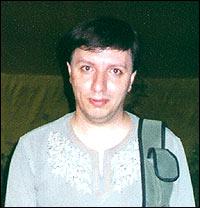 Rajsur is touring with the Russian circus, which is currently in India, on an invitation from the circus organiser.
He sings Hindi songs during circus performances on public demand. He speaks in Hindi with security personnel, obviously enjoying every bit of it.
However, he hates it when he is referred to as a circus artiste. That is because, he says, he is a singer and not a circus artiste.
Elmar talked about his love for Hindi, Hindi songs and Raj Kapoor with Senior Correspondent Vijay Singh.
When did you start learning Hindi songs?
I started learning Hindi songs when I was in class 9. 'Main shayar to nahi..', from the film Bobby, was the first Hindi song I learnt.
How did you get interested in Hindi movies and songs despite being in Russia?
In Russia, Raj Kapoor is very well known. People liked him because of his movies like Awaraa and Shri 420. I started to learn Hindi songs after watching such movies (Mera joota hai japani was very famous in Russia).
I liked Raj Kapoor for one more reason. We share the same date of birth -- December 14.
How did you perfect your Hindi diction?
During my school days, I realised if I wanted to make singing Hindi songs my career then I had to have a very clear voice and perfect pronunciation. Otherwise nobody would listen to my songs.
I started to follow the flow of songs and get my pronunciation right.
I did this on my own. I have never taken anybody's help in India.
In 1985, when Raj Kapoor's last movie as a director, Ram Teri Ganga Maili, was released, I listened to the songs of the film. I liked the voice of the male singer. I was unaware who the singer was. But later I learnt it was the voice of Suresh Wadkar.
I could recognise Lata Mangeshkar's voice but not of all singers. 
When did you master Hindi?
I started to sing Hindi songs in 1979, and after four years, I started to sing Hindi songs in a clear and fluent manner.
Which singer do you like the most?
Suresh Wadkar is my favourite singer. I also like Hari Haran, Sonu Nigam and Adnan Sami.
Why do you like Suresh Wadkar?
My voice is similar to his.
How much time does it take you to learn a new song?
I usually learn songs by listening to them once. I find it difficult to sing A R Rahman's and Kishore Kumar's songs because of their voice flow. But I like their songs very much.
Which song gives you utmost satisfaction as a singer?
Satrangi re (Dil Se), sung by Sonu Nigam, is very difficult to sing at live shows. But I have sung it live, and that gave me satisfaction.
How many times have you visited India?
This is my first visit.
How do you feel singing Hindi songs in India?
I used to sing Hindi songs for Indians abroad. This is the first time I am singing Hindi songs for Indians in India. It's a pleasure.
How do you make yourself good at singing?
I sleep only four hours a day. All the other hours are devoted to learning new Hindi songs.
What is your means of survival in Russia?
Hindi songs are my means. I sing Hindi songs at hotels. In Moscow alone, we have 20 Indian restaurants where I sing.
I also perform on special occasions for Indians and at official functions. In Russia, everybody calls me Suresh, as my voice is similar to Suresh Wadkar.
How do you find Indians in Russia?
In Russia, people treat me like an Indian.
If some Indian does something wrong, I am criticised for that. People say 'your Indian' did such and such a thing.
In India, many people do not believe when I say I am Russian. They ask me for my passport.
I am in India on a three-month visa, and I am a singer not a circus artiste. I feel bad when people introduce me to someone as a circus artiste. There are huge difference between a singer and a circus artiste.
Explain why 'Rajsur' is your surname.
I have Raj in my surname, because I was born on December 14 and Sur because my voice is similar to that of Suresh Wadkar. Sur also means good voice.