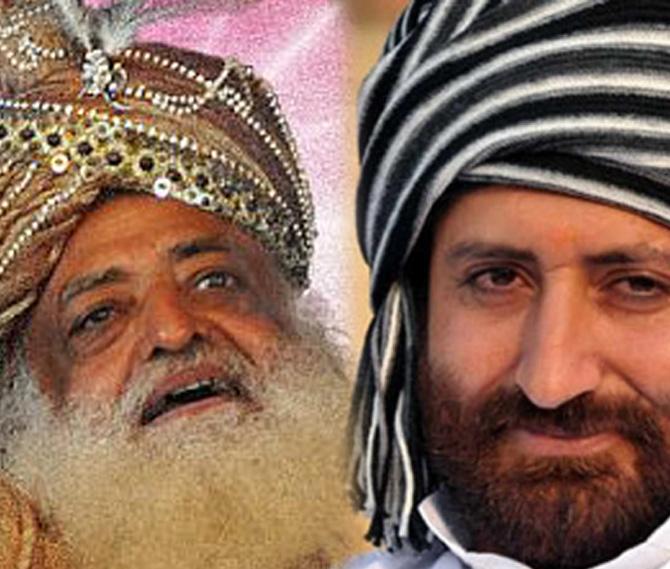 The verdict of a lifetime in jail slapped on self-styled godman Asaram for raping a 16-year-old girl has turned the spotlight on two other women who have charged the 77-year-old preacher with sexual assault and are awaiting justice.
A Jodhpur court on Wednesday convicted and sentenced Asaram to a life in jail for the assault on the teenager, but another matter relating to the alleged sexual exploitation of two sisters is still pending before a court in Gandhinagar, Gujarat.
The sisters, based in Surat, had alleged they were raped and illegally confined by Asaram and his son Narayan Sai.
While Asaram was arrested in September 2013 in connection with the Jodhpur rape case, his son Sai was arrested in December 2013 over the complaint lodged by the sisters.
While the elder sister had accused Asaram of repeated sexual assaults in 1997–2006 at the Motera ashram in Gujarat, the younger sister had alleged that Sai sexually assaulted her from 2002 to 2005 at an ashram in Surat.
One of the sisters also alleged that Asaram's wife and daughter helped the two men rape the women.
Besides Asaram, the state police in its chargesheet filed in 2014 had mentioned among the accused his wife Lakshmi, daughter Bharti and four women followers --Dhruvben, Nirmala, Jassi and Meera.
Earlier this month, the Supreme Court had adjourned the bail plea of Asaram and pulled up the Gujarat Police for the delay in the completion of recording evidence in the case and directed it to conclude the process within five weeks.
"It cannot go like this for months," the top court had said while asking the state police about the status of the trial.
The government had informed the apex court that the victims' statement has been recorded.
Asaram's counsel had told the court that in the Gujarat case, out of 92 witnesses, 22 material witnesses had been examined, 14 of them dropped and the rest needed to be examined.
On August 28, the apex court had expressed anguish over the tardy pace of progress in the case and had asked the state government to file a report.
Earlier, the top court had refused to grant bail to Asaram on various grounds in the two sexual assault cases lodged in Rajasthan and Gujarat.
But rape is not the only charge against Asaram. He is also facing prosecution in a Rs 700-crore land grab case of 2000 in Madhya Pradesh.
The case pertains to 200 acres of land in Ratlam, Madhya Pradesh.
Asaram and his son Sai were accused of grabbing the land located on the Delhi-Pune freight corridor, which, it was said, belonged to a company, Jayant Vitamins Limited.