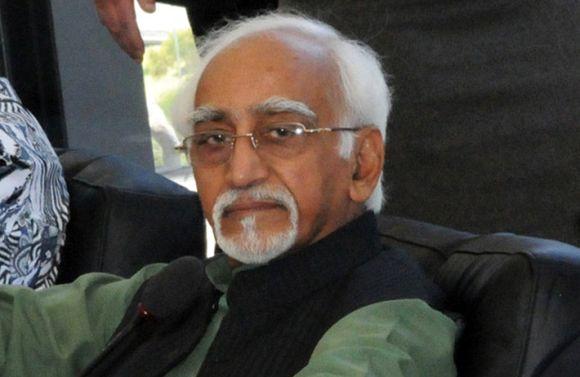 Vice President Hamid Ansari on Tuesday left Lima for the first ever bilateral visit to Cuba by a top Indian leader after a "landmark" tour of Peru during which four agreements were signed.
Ansari will be the first Indian VVIP to go to the Communist country on a bilateral visit as earlier trips by Prime Minister Manmohan Singh and others were in connection with multi-lateral events and meetings.
He will hold talks with President Raul Castro but it is still unclear whether he will meet Fidel Castro, the hero of the Cuban revolution who gave up the presidency in 2008 because of poor health.
Officials described India's ties with Cuba as "deep, enduring and historical".
Summing up Ansari's meetings with Peru's leadership, Secretary (West) Dinkar Khullar said the visit was a "landmark" one as India had set the pace by engaging in key fields with the fastest growing country in Latin America.
India signed four agreements with Peru, including one on defence cooperation, to boost ties with the resource-rich country. The pacts were signed yesterday at the end of Ansari's three-day visit.
Two agreements cover an exchange programme in education and another a letter of intent for cooperation in culture. The two sides also signed an agreement to set up a joint commission to step up bilateral ties.
Peru came out in support of India's claim for permanent membership in an expanded United Nations Security Council.
The two countries also asserted that terrorism cannot be justified "in any form for any cause or for any reason". Ansari launched the Indian Chambers of Commerce that will facilitate Indian trade and industry in doing business in Peru and other Latin America countries.
The INCHAM became operational at a time when Peru is rapidly becoming one of the more important trade partners for India in the region.
Ansari said the new organisation promises to fill what has so far been a vacuum in bilateral economic ties. The official website of INCHAM too was launched.
The two sides showed a great deal of interest in reaching a Free Trade Agreement. In a joint statement issued on Tuesday, the two countries said a FTA will have a "positive impact" on increasing prosperity and wellbeing of the people.
"The Peruvian side welcomed Indian initiative of undertaking a comprehensive study on this important subject that will have far reaching implications for both the countries," the statement said.
Peru is the world's largest producer of silver, the second largest producer of copper and zinc and fifth largest producer of gold. It has an estimated 15 trillion cubic feet of recoverable gas reserves.
The vice president had a special meeting with Peru's President Ollanta Humala Tasso and extended an invitation to him to visit India, which was accepted.
Ansari visited Peru at a time when both countries are celebrating the 50th anniversary of diplomatic relations between them. As part of the celebrations, Ansari inaugurated the Festival of India in Lima.