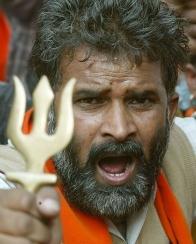 As many as 1,600 people, including Bharatiya Janata Party MP Yogi Adityanath and several VHP leaders, were arrested on Friday while the borders of Ayodhya and Faizabad have been sealed by the Uttar Pradesh government as part of crackdown on the saffron outfit's proposed 'Sankalp Diwas' rally.
"So far 1,600 people, including the BJP and VHP leaders, have been arrested across the state as a preventive measure," Inspector General (Law and Order) R K Vishwakarma told PTI. He said that while borders of Ayodhya and Faizabad remained sealed, around 10,000 people took bath in the Saryu River on the occasion of Sharad Purnima.
BJP MP Yogi Adityanath and 24 others accompanying him to Ayodhya were arrested at Gonda railway station as a preventive measure, Additional District Magistrate Anjani Kumar Singh said in Gonda.
Adityanath, BJP MP Satyadeo Singh, BJP's regional secretary Surya Narain Tiwari and others arrested have been kept at the irrigation department's field hostel there.
National general secretary of VHP Champat Rai, BJP MLA Ram Chandra Yadav along with around 200 workers were arrested from Ramsewakpuram in Ayodhya. With Muzaffarnagar riots fresh in mind, the Centre has asked the UP government to maintain status quo in Ayodha and prevent any attempt to flare up communal tension anywhere in the state.
The home ministry has told the state government to observe status quo at the Ram Janmabhoomi-Babri Masjid site in Ayodhya as per the Supreme Court directive and not to allow any gathering near the disputed area. The UP police had on Thursday arrested around 340 people, including former BJP MLA Lallu Singh, and put 42 others under house arrest on the eve of the rally.
"To prevent VHP activists from attending the rally, three-tier barriers have been put up on Saryu bridge, Faizabad district and Ayodhya," Vishwakarma had said on Thursday.
Around 2,000 jawans of Rapid Action Force, police and PAC have been deployed in the area. As a precautionary measure, the local administration has set up a temporary jail at the Police Line, the IG had said.
VHP has given a call to observe 'Sankalp Diwas' in Ram Sewak Puram of Ayodhya to take a resolve for launching an agitation for rebuilding the Ram temple.
Image used for representational purpose only