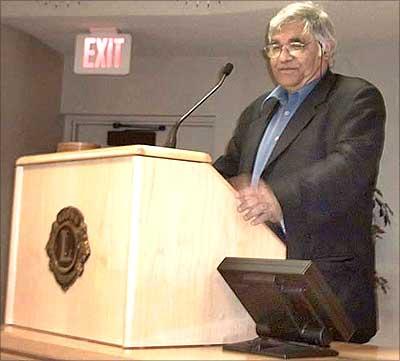 The American Association of Indian Scientists in Cancer Research at its 15th annual meeting at the Lion's Club in San Diego, California, presented the Lifetime Achievement Award to Dr Inder Verma, senior professor at the Salk Institute for Biological Sciences in San Diego, California, and the American Cancer Society professor of molecular biology.
Dr Verma is renowned for his contributions in gene therapy research, which has changed the understanding of the application of gene therapy in cancer and a variety of others diseases, according to the Association. He has been working with the Indian government to train scientists and promote research.
The AAISCR presented its Promising Young Entrepreneur award of the year to Dr Atul Varadachary, president and chief operating officer of the Houston-based biotechnology company, Agennix.
Dr Rajeshwar Rao Tekmal, chairman of this year's Young Investigator Awards panel, announced the winners:
First place: Dr Lingegowda S Mangala, postdoctoral fellow, the University of Texas M D Anderson Cancer Center, Houston.
Second place: Dr Gargi D Basu, postdoctoral fellow, Translational Genomics Research Institute, Scottsdale, Arizona.
Graduate students category: Binoj C Nair of the UT Health Science Center, San Antonio.
Dr Kapil Mehta, president, AAISCR and professor of cancer medicine at the UT M D Anderson Cancer Centre, highlighted the organisation's achievements over the previous year, including the launch of the newsletter N-LINK.
AAISCR seeks to promote peer support and scientific interactions, advising and mentoring young scientists, exchanging ideas and technologies, recognizing scientific excellence, sharing scientific information and experiences, and helping translate scientific discoveries into clinical applications, Dr Mehta noted. He said the body was working with the Indian Association of Cancer Research to open communication with cancer research scientists in India.
AAISCR (www.aaiscr.org) was founded in 1994, and is a non-political and nonprofit organisation.
Image: Dr Inder Verma