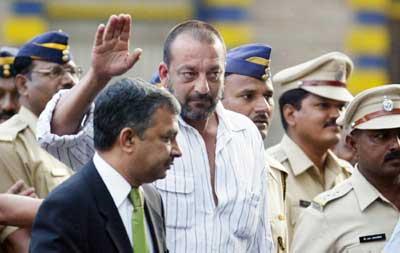 It was all over in a minute.

Sanjay Dutt saw, hugged, waved and disappeared.

His fans who had been waiting outside Pune's Yeravada jail could not catch a glimpse of the actor as he was released early in the morning at 7.16 am. There was no crowd cheering him nor was there much security.
Ever since the Supreme Court order to release Dutt on interim bail, curious onlookers and fans have been coming to Yeravada jail to get a glimpse of the actor.
Dutt was accompanied by his lawyer Satish Maneshinde and another co-accused Yusuf Nulwala when he came out of the jail.
"Sanjay fulfilled all conditions set by the Supreme Court for his release and due to this, we completed procedures at the jail early this morning," Maneshinde told reporters outside the Dutt residence in Pali Hill, Mumbai.
When asked how Sanjay was doing, he said, "He is happy to be at home and with his friends and family."
About the actor's plans to start working in films, he said, "Well, it is too early to speak on anything. He will decide on his career later. The most important thing (now) is to spend time with his family which he is doing."
The actor's close friend and Maharashtra Minister Baba Siddiqui said, "He is overjoyed to be at home with his friends and family."

Crowds had been visiting Yeravada jail since Monday in hopes seeing their beloved actor. Unfortunately for them Yerwada jail authorities released him early on Thursday.

"I have been coming here for the last three days. I am disappointed that I could not see him," said Ashish Bhonsle, a resident nearby.

His friend, Avinash Naik, added, "When he entered Yeravada jail I missed him because I was out of Pune. Unfortunately, I was too late. The jail authorities should have not released him so early."

Bureaucratic delay led to the release of Dutt on Thursday morning or else he would have been out by Wednesday evening.

Dutt's lawyer Maneshinde could not attain the order copy from TADA court in time on Wednesday and therefore he got delayed in reaching Pune by 5 pm. Yeravada jail rules state that any convict who gets bail has to produce his papers to the jail authorities between at 7 am and 5 pm.

Dutt sported a beard and had a haircut in the prison before walking out free. His looks were not unlike the character Billa played by him in the movie Musafir.

He was holding a polythene bag in hand and hugged a policeman as soon as he walked out of the prison. He smiled at another cop, shook hands with two of them and waved to media persons before driving down to Pune airport to reach Mumbai via a chartered flight.
Dutt has been given temporary respite by the Supreme Court as the TADA court which sentenced him to six years in prison has not given an order copy to him. The SC has told him to surrender as soon as he gets the order copy from the TADA court.
According to experts, Dutt's relief would be temporary as he had been granted bail on technical grounds. The copy of the judgement was not made available to him. "The judge has a tremendous task ahead of him. The judgement runs into 7000 pages," said a senior journalist who has been following the developments in the 1993 Mumbai blast case.
"The judge has to ensure that each of over 120 accused get a certified copy of the judgement. Which means more than 7 lakh pages to be photo-copied. If they give him a copy on 27th then he has to surrender before Parmod Kode forthwith and then move the Supreme Court for regular bail."
Dutt has spent 24 days in Yeravada jail before being set free on Thursday morning. He was prisoner C-15170, as he was identified in the Yeravada records. His friend Yusuf Nulwalla was prisoner C-15171.
He was assigned the task of making cane chairs and he participated in making eight chairs in the jail under supervision of other inmates.

Dutt also met up with Gandhian activists in Yeravada jail and took some books to read on Gandhian thoughts.

He was given an autobiography of Mahatma Gandhi; Mangal Prabhat, a booklet the Mahatma wrote while he was an inmate of Yeravada for six years during the 1920s; and a book on Gandhi written by Manuben Gandhi, a close associate.
(With PTI Inputs)
Photograph: Getty Images