The Prime Ministers Office is upset that the Congress party was deliberately playing up the Saeed-Vaidik meeting in Parliament to detract attention from Prime Minister Narendra Modi's meeting with the Chinese president. Rediff.com contributor Renu Mittal reports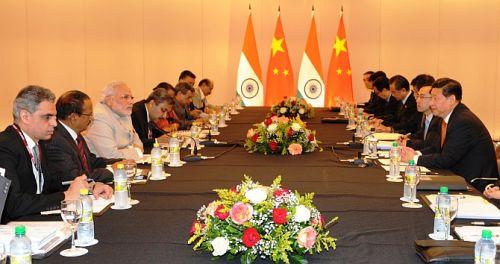 Journalist Ved Pratap Vaidik's meeting with Mumbai terror attacks mastermind Hafiz Saeed in Lahore has overshadowed Prime Minister Narendra Modi's first meeting with Chinese President Xi Jinping in Brazil, on the eve of the BRICS Summit.
Sources in the PMO appear to be upset that the Congress party was deliberately playing up the issue in both the houses of Parliament to detract attention from the prime minister's meeting with the Chinese president.
The media has been focusing on the Ved Pratap Vaidik issue even though several ministers like Arun Jaitley, Sushma Swaraj and Venkaiah Naidu denied any involvement of the government.
They said the meeting did not take place either with the knowledge or the blessing of the government. But the main opposition party, the Congress, has been insistent that the meeting had the approval of the government and that the Indian high commission in Islamabad had knowledge about the meeting.
Congress Vice-president Rahul Gandhi claimed that Vaidik was a Rashtriya Swayamsevak Sangh man and had connections with the Vivekananda foundation a government initiative. National Security Adviser Ajit Doval has been a member of the Vivekananda foundation and it is felt in political circles that the back channel efforts could have been a part of Doval's strategy. Doval appears to be focused on Pakistan and India's neighbourhood to enhance India's following in the region and to stop China in its tracks.
The Congress in its Tuesday morning meeting decided to make Hafiz Saeed meeting into a national security concern. However, it could not force adjournments in the Lok Sabha since a number of smaller parties wanted the rail budget out of the way, while Congress Karnataka MPs wanted to hear Railway minister Gowda. Congress faced a major problem with floor management particularly since only 21 out of its total 44 MPs were present in the house.
In the Rajya Sabha the Congress forced an adjournment on the issue and was able to bring Sushma Swaraj to come to the Rajya Sabha and issue a clear denial of the government's involvement in the Vaidik-Saeed meet. The Congress could not prevent the TRAI ordinance from being passed since most of non-congress opposition parties, except for the Left, supporting the government. The ordinance was passed despite the Congress and the Left walking out of the house.
Image: Prime Minister Modi at a bilateral meeting with Chinese President Xi Jinping, on the sidelines of the sixth BRICS Summit Photographs: Press Information Bureau