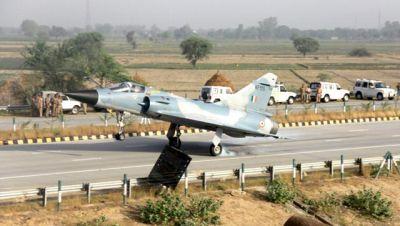 A test-landing by IAF's Mirage 2000 fighter jet on the Yamuna Expressway near Agra on Thursday has prompted the Uttar Pradesh government to make the on-going Lucknow-Agra Expressway fit enough to be used as an airstrip for emergency landings.
This was the first time that an air force supersonic jet made a trial landing on a highway from where it also took off immediately thereafter. The Mirage 2000 initially made a "practice approach" 100 metres above the expressway and flew back into the sky after which it returned to make a smooth landing. It taxied for about a kilometre and then took off again.
The UP government on Friday announced it will ensure that the new 300-km expressway, being built to connect Lucknow and the city of Taj Mahal on the fast track, was sturdy enough to enable emergency landings.
UP Expressway Authority Chief Executive Officer Navneet Sahgal said, "The new expressway, which is the chief minister's dream project, will also be made to enable emergency landings by aircrafts."
"Work on the project is in full swing and we are confident of completing the 8-lane access control expressway -- the longest one in the country -- by end of next year," he said.
Four areas are proposed to be earmarked for emergency landings for fighter planes on the 300 km stretch.
Image: IAF's Mirage 2000 successfully landed on Yamuna Expressway near Mathura on Thursday. Photograph: IAF