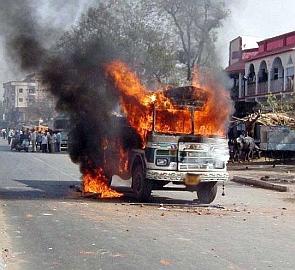 A Dalit woman, who was allegedly gang-raped a few days back, committed suicide by setting herself ablaze, prompting her family and Bahujan Samaj Party workers to stage a violent protest in Sikandarau area in Hathras, Uttar Pradesh.
The agitation over the alleged abduction and gang-rape of the woman in Jaswant Nagar area of Etawah on July 12 and her self-immolation on Monday, turned violent when some agitators resorted to brick batting and arsoning in the area.
The police, while promising to arrest the accused persons soon, resorted to lathi-charging to control the situation.
BSP workers and the family of the woman, demanding immediate arrest of the accused, staged a protest leading to a traffic jam on Sikandarau-Etah road.
Some agitators even resorted to brick-batting and set afire a number of vehicles including three trucks and bikes. Window panes of a number of vehicles including that of the Additional District Magistrate Udairam were also damaged, prompting police to resort to lathicharge the protestors.
Vehicular movement at Sikandarau area resumed only after Superintendent of Police Deepika Tiwari reached the spot and assured the family members and BSP workers that the accused would be nabbed soon.
"The victim has given her statement before her death in which she had taken some names. We have identified them and will arrest them soon," Tiwari said. She said information in this regard has been forwarded to Jaswant Nagar police.

Image: Protesters set ablaze vehicles in Hathras, Uttar Pradesh.