The only Indian-American in Congress won the election in 2012 and re-election in 2014 by wafer-thin margins. His race this year is officially a 'close contest'.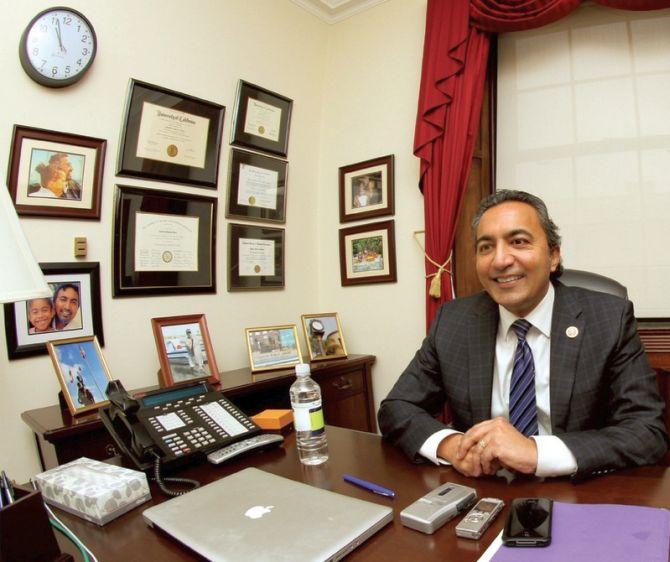 Despite all of the criticism and vitriolic attacks on Dr Amerish 'Ami' Bera's credibility, in the wake of his 83-year-old father Babulal Bera being sentenced to prison in August for illegally funnelling money to his son's election campaign, the California Democrat is edging towards a re-election to Congress for his third term.
If elected, he will become the longest-serving Indian American in the US House of Representatives, beating out Dalip Singh Saund, also a Democrat from California, who served two terms in Congress in the 1960s.
With 100 per cent of the precincts in District 7 partially reporting in the wee hours of November 9 -- in a race that was officially termed a 'close contest' -- Ami had 50.6 per cent of the votes as opposed to Scott R Jones, his Republican opponent's 49.4 per cent.
A close contest is one which has less than a 2 per cent difference between the first and second place candidates. In these cases it is expected that 'election results will change throughout the 30-day canvass period (28 days for presidential electors and 30 days for all other contests) as vote-by-mail ballots, provisional ballots, and other ballots are tallied.'
-- FULL US ELECTION 2016 COVERAGE
Bera's election in 2012 and re-election in 2014 against long-time Republican incumbent and then challenger Doug Ose were also won by wafer-thin margins. But this time he faced what appeared to be his toughest electoral year.
Not only is his opponent a popular law enforcement official, Bera also faced internal dissent from Democrats in his own Sacramento constituency who were unhappy with some of his votes in the US Congress.
"It's just some internal folks who were unhappy that I was supporting the President's desire to negotiate a trade deal," he had then said, arguing that "he's a Democratic President" after all.
Pressed if he was concerned about the dissent, considering these were his home town folks and his district constituents, he had reiterated, "No. I always ran on the fact that I was going to present the entire district -- Democrats, Republicans, Independents, and that's largely what I am doing. Yet, there's a handful of folks that I think, want to drive the agenda. Ultimately, the agenda is driven by this diverse district that I represent."
The dissent, and even his father pleading guilty to election fraud (the authorities had cleared the Congressman of any wrongdoing) didn't have any impact on him in the primaries, which he won.
Longtime Democratic Party activist and fund-raiser Shekar Narasimhan, the founder and chairman of the first ever Asian American Super PAC, the AAPI (Asian American and Pacific Islander) Victory Fund, gave Bera a "50-50" as he was in a tough race.
Narasimhan said, "Ami has been elected twice and has a good ground game, so, I am going to say that Ami will win," over his Republican opponent, Sacramento County Sherrif Scott Jones, "although everything depends on the turnout."
-- With inputs from Aziz Haniffa