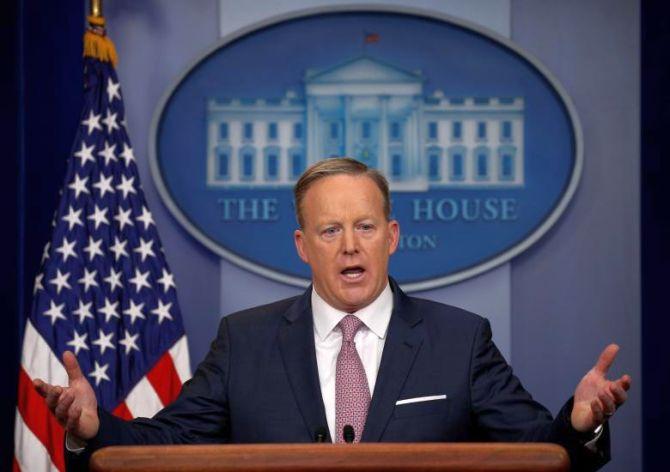 The war between the media and American President Donald Trump has further intensified after the White House decided not to invite major media outlets for a press gaggle by White House Press Secretary Sean Spicer.
Several top American media outlets, including The New York Times, CNN and The Los Angeles Times, which were among those press outlets critical of the Trump Administration, were not invited to Spicer's press gaggle.
The White House described it as an "extended gaggle".
A representative of the foreign media and Breitbart News, The Washington Times, NBC News and ABC News were allowed inside for the gaggle.
The White House Correspondent's Association has lodged a protest with the White House on how the gaggle was being handled.
Earlier, in the morning, the White House updated its schedule telling reporters that Spicer would be holding an "extended pool" gaggle with reporters.
Those invited for the gaggle were sent a separate e-mail in this regard.
As reporters gathered inside the press briefing room, many of them who had not received the e-mail were asked to go back.
The White House correspondents of the Associated Press and Time magazine, who were among the select few invited to attend the gaggle, decided not to attend in protest.
"The WHCA board is protesting strongly against how today's gaggle is being handled by the White House," White House Correspondents Association said in a statement.
"We encourage the organisations that were allowed in to share the material with others in the press corps who were not. The board will be discussing this further with White House staff," it said.
"Nothing like this has ever happened at the White House in our long history of covering multiple administrations of different parties," New York Times executive editor Dean Baquet said in a statement.
"We strongly protest the exclusion of The New York Times and the other news organisations. Free media access to a transparent government is obviously of crucial national interest," he said.
"This is an unacceptable development by the Trump White House. Apparently this is how they retaliate when you report facts that they do not like. We will keep reporting
regardless," CNN said.
Image: White House Press Secretary Sean Spicer during a press briefing. Photograph: Reuters