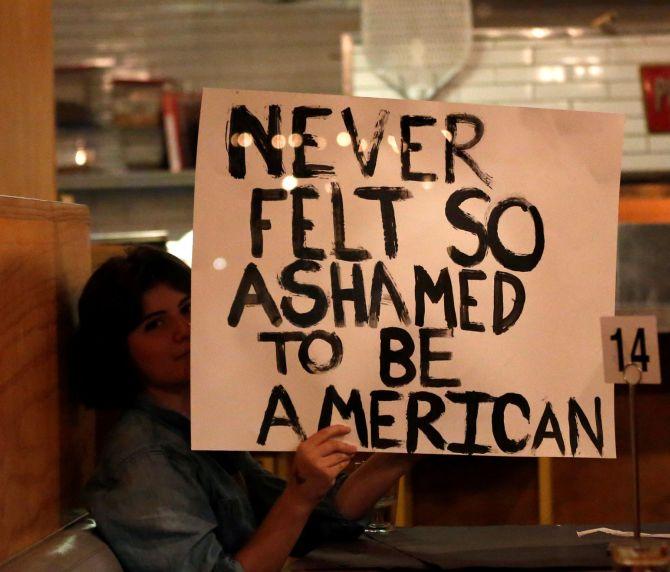 Tweet by tweet, profile picture by profile picture, a new online campaign is taking shape to protest Donald Trump's election victory.
People are taking to Twitter to protest peacefully, via a movement called #TwitterBlackout.
They are changing their profile pictures to a blank black square. Some of them are also tweeting hopeful messages of support to the people that feel particularly vulnerable now that Trump, whose campaign was marked by divisive rhetoric, has won the White House.
In particular, a black colour image by one Alexandre Breveglieri was doing the rounds. Written on it were words that read "To present that they are opposed to the result of Donald Trump becoming a president, Twitter users are changing their profile layouts to plain black."
"Tonight, I stand with-Woman-People of color-The LGBTQ+ community-Muslims-Disabled people," wrote one user.
"The LGBTQ+ community, Hispanics, Muslims, immigrants, POC, have always fought, & we will continue fighting," another wrote.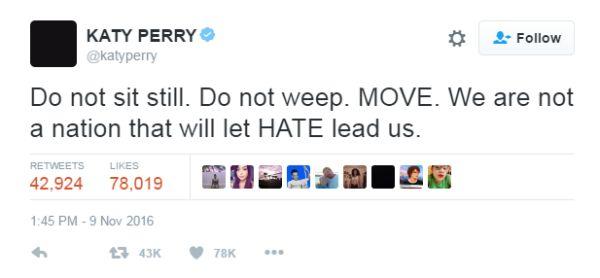 IMAGE: Katy Perry's Twitter feed after she joined the #blackout protest. Photograph: Katy Perry/Twitter
And it didn't take long for the blackout to spread to other platforms as individuals began switching the avatars on their Instagram, Facebook, and Tumblr accounts to the solid black square.
On Twitter, Clinton supporters Lady Gaga and Katy Perry helped spread the word.
Earlier, thousands of anti-Trump protesters took to the streets of New York, Chicago, Philadelphia, Boston, California, Colorado, Seattle and other cities protesting the shocking victory of Donald Trump.
The protesters held a multitude of placards expressing their resentment for Trump through slogans such as 'No more Hate' and 'Not our President'.
Additionally, Twitter also saw the trending of #RIPAmerica with many expressing their anguish over Trump's victory against Hillary Clinton.