President-elect Donald Trump has shaken up his White House transition team, appointing Vice President-elect Mike Pence as its head and three of his children as part of the group that would shape the direction of Trump's administration beginning January 2017.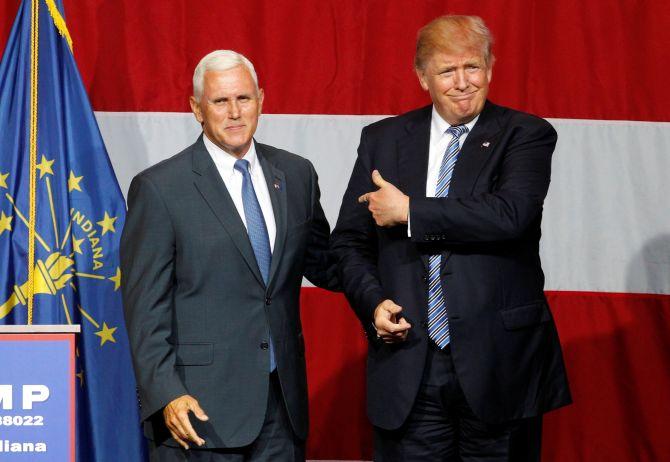 Trump, who won the general elections on November 8, would be sworn in as the 45th president of the United States on January 20, 2017, replacing Barack Obama, whose tenure ends that day.
Till then, the 70-year-old real estate tycoon has a transition team which would help him prepare to hit the ground running from day one.
The announcement by Trump came on Friday that Pence would be head of his transition team which was previously held by New Jersey Governor Chris Christie.
According to a media release, Pence would replace the New Jersey Governor to serve as the Chairman of the Presidential Transition Team.
Dr Ben Carson, New Jersey Governor Chris Christie, former Speaker of House of Representatives Newt Gingrich, Lieutenant General Michael Flynn, USA (Ret) former New York City Mayor Rudy Giuliani and Senator Jeff Sessions will join the team's
executive committee as vice chairs, it said.
Among other members are two of his sons Donald Trump Jr and Eric Trump along with daughter Ivanka Trump. The Republican National Committee Chairman Reince Priebus, Trump Campaign CEO Stephen K Bannon are other members of the transition team.
"Together this outstanding group of advisors, led by Vice President-elect Mike Pence, will build on the initial work done under the leadership of New Jersey Governor Chris Christie to help prepare a transformative government ready to lead from day one," Trump said.
"The mission of our team will be clear: put together the most highly qualified group of successful leaders who will be able to implement our changed agenda in Washington. Together, we will begin the urgent task of rebuilding this nation specifically jobs, security and opportunity. This team is going to get to work immediately to Make America Great Again," he said.
He also announced that Chief of Staff to Senator Sessions, Rick Dearborn, will join Presidential Transition Team as executive director.
"President-elect Trump will bring about fundamental change in Washington and these are the right people to make that happen," Pence said.
"This team of experienced leaders will form the building blocks of our Presidential Transition Team staff leadership roster, and will work with elected officials and tireless volunteers to prepare our government for the transfer of power on January 20th," he said.
Photograph: John Sommers II/Reuters