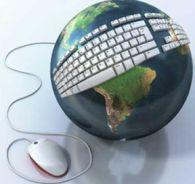 The Delhi high court on Monday termed as "serious" the use of internet services provided by offshore firms by government officials in communicating on sensitive issues and asked the Centre to come up with the e-mail policy.
"This is a very serious issue. It may jeopardise the safety, security etc. etc. of the nation. Moreover, the use of such internet services is against the Public Records Act as the data is sent outside the country before its delivery," the bench of acting Chief Justice B D Ahmed and Justice Siddharth Mridul said.
Additional Solicitor General Rajeeve Mehra, appearing for various central ministries, said the Committee of Secretaries of concerned departments will meet on March 5 to consider framing the new e-mail policy.
The court had on October 31 last year asked the Centre to formulate the New Email Policy for its officials within four weeks as the present system of using internet services of offshore firms was violative of the provisions of the Public Records Act, 1993.
During the hearing, the court asked various officials of the ministries, who were present, to sit together and devise the policy before the model code of conduct for Lok Sabha polls goes into force.
Dipesh Sharma, appearing for K N Govindacharya who had filed the PIL, also raised issues of non-compliance of earlier court orders.
The court fixed the PIL of the former BJP ideologue for further hearing on March 26.
Earlier, American multinational Google Inc had said that it is not liable to pay any taxes in India for its internet activities as it is not providing any taxable services or earning income from here nor does it have a permanent establishment in the country.
The PIL has also sought protection of children from online abuse and recovery of taxes from the websites on their income from operations in India.
The website's claim was opposed by Govindacharya, who in his affidavit, has contended sites like Facebook Inc and Google Inc are liable to pay taxes as they generate huge revenue through agreements with Indian advertisers as well as sale of games and applications to internet-users.
In his affidavit filed through advocate Virag Gupta, he alleged the website has "incorrectly" submitted before the court that no tax is payable by them in India.
He also alleged the tax department has "failed to initiate penal provisions" or "demanded the outstanding taxes for previous year(s)" from the websites "which has caused irreparable loss to the Indian economy and exchequer".
On an earlier date of hearing, the Centre had submitted that a new email policy is being formulated and it is in its final stage and would be put before the court.
On August 23, 2013, the court had directed Facebook and Google to display on their websites the name and contact details of grievance officers to deal with complaints and had observed that "they cannot flout the law just because they are a foreign company".