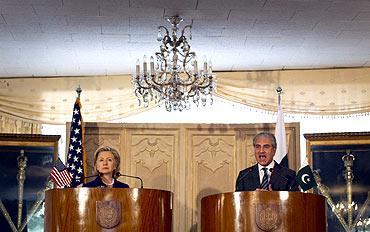 Secretary of State Hillary Clinton told the Pakistani leadership that the United States wants the continuation of dialogue between New Delhi and Islamabad so that the two sides can resolve their outstanding problems amicably, diplomatic sources said on Monday.
Clinton, who is currently in Pakistan for the US-Pakistan Strategic Dialogue, made the remarks after a delegation-led by Foreign Minister Shah Mahmood Qureshi briefed her on the meeting between the foreign ministers of India and Pakistan on July 15.
"The Secretary of State made it clear that the US is interested that the process between Pakistan and India should be sustained," a diplomatic source familiar with the discussions told PTI.
The Pakistani delegation told Clinton about the reasons why the Foreign Ministers had been unable to make any headway in their talks.
The Pakistani side contended that the Indian team led by External Affairs Minister S M Krishna had focussed only on the issue of terrorism and shown no interest in addressing
Pakistan's concerns, including the Kashmir issue, Siachen and the need for a regional strategic restraint regime, the sources said.
Clinton responded to these issues by saying that the US would like India and Pakistan to amicably resolve their outstanding problems and address issues between the two countries, the diplomatic sources said.
Foreign Minister Qureshi and his Indian counterpart Krishna have exchanged angry barbs since their talks ended in deadlock.
Qureshi has claimed that Krishna came to Islamabad with a "limited mandate" and was not willing to focus on Pakistan's concerns.
Sources have said the talks between the Foreign Ministers were unable to make headway due to Pakistan's insistence on a time-bound roadmap to address outstanding issues like Kashmir, Siachen and security-related matters.
India has indicated that it favours slow and incremental steps to improve relations that suffered a major setback in the wake of the 2008 Mumbai terror attacks. It has also insisted that Pakistan must take steps to bring the masterminds, financiers and handlers of the attacks to justice.
Image: US Secretary of State Hillary Clinton and Pakistan Foreign Minister Shah Mehmood Qureshi speak at a joint news conference in Islamabad on Monday.
Photograph: Reuters/Adrees Latif