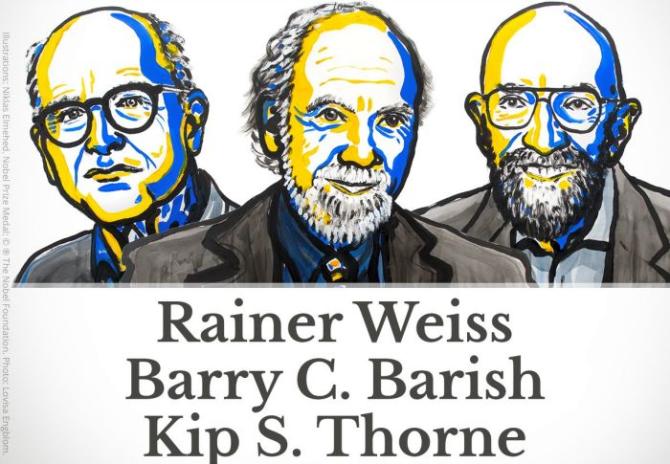 Three Americans have won the Nobel prize in physics for the discovery of gravitational waves, ripples in the fabric of spacetime that were first anticipated by Albert Einstein a century ago.
Rainer Weiss, Kip Thorne and Barry Barish will share the prize.
All three scientists have played a leading role in the Laser Interferometer Gravitational-Wave Observatory, or Ligo, experiment, which made the first historic observation of gravitational waves in September 2015.
Weiss, emeritus professor of physics at Massachusetts Institute of Technology, is an experimentalist and made a major contribution to the concept, design, funding and eventual construction of Ligo.
Kip Thorne, the Feynman professor of theoretical physics at California Institute of Technology, is a theorist and made crucial predictions of what the detection of a gravitational wave would actually look like and how to identify that signal within the data.
Barry Barish, a former particle physicist at California Institute of Technology (now emeritus professor) is widely credited for getting the experiment off the ground. When he took over as the second director of Ligo in 1994, the project was at risk of being cancelled. Barish turned things around and saw it through to construction in 1999, and its first measurements three years later.
"This is something completely new and different, opening up unseen worlds," said the Royal Swedish Academy of Sciences on awarding the prize in Stockholm, Sweden.
"A wealth of discoveries awaits those who succeed in capturing the waves and interpreting their message."
Gravitational waves are extremely faint ripples in the fabric of space and time, generated by some of the most violent events in the universe.
Professor Weiss, in a phone call with the news conference at the Royal Swedish Academy of Sciences, said: "I view this more as a thing that recognises the work of a thousand people."
Image: Americans Rainer Weiss, Kip Thorne and Barry Barish won the prize for their discovery of gravitational waves, ripples in the fabric of spacetime that were first anticipated by Albert Einstein a century ago. Photograph: @NobelPrize/Twitter