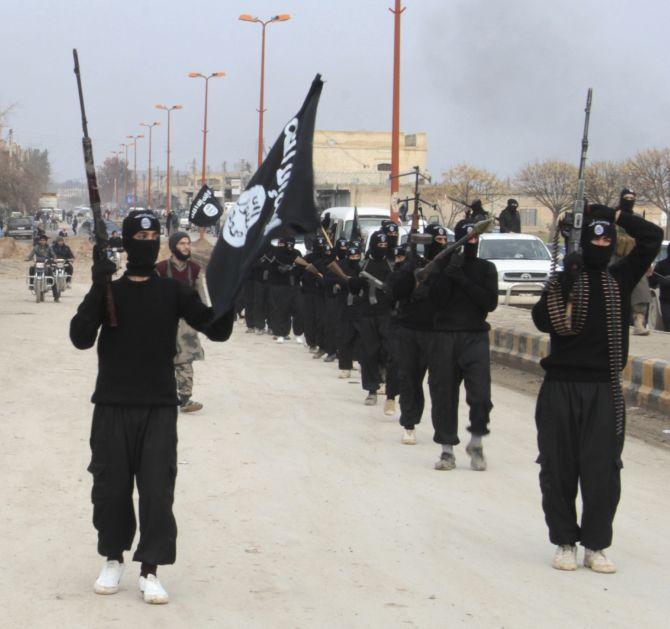 Fighters of the Islamic State of Iraq and the Levant carry their weapons during a parade at the Syrian town of Tel Abyad, near the border with Turkey January 2, 2014. Picture taken January 2, 2014. REUTERS/Yaser Al-Khodo
An American teen has been indicted on charges of joining the Islamic State, the terrorist organisation that has captured a large part of Syria and Iraq and has threatened regional peace.
Hamza Ahmed, 19, is at least the fourth person from the Twin Cities of Minneapolis charged as a result of an ongoing investigation into individuals who have travelled or are attempting to travel to Syria in order to join a foreign terrorist organisation, said United States Attorney M Luger.
According to the indictment and documents filed in court, Ahmed and three companions, travelled by bus from Minneapolis to New York City's John F Kennedy International Airport. The four men were each booked on international flights scheduled to depart JFK on November 8, 2014.
Ahmed and one of the unidentified individual were booked on the same flight from JFK to Istanbul, Turkey. Three others were prevented from boarding their flights.
Ahmed successfully boarded, but was escorted from the aircraft by the US customs and border protection agents before it left the boarding gate.
According to the indictment and documents filed in court, Ahmed was subsequently interviewed by Federal Bureau of Investigation agents.
He made multiple false statements during the interview, including telling agents that he was travelling alone, and that he did not know the others.
When Ahmed arrived back in Minnesota on November 9, 2014, FBI agents conducted a second voluntary interview, during which Ahmed again lied to agents, prosecutors said.