The US will not be delivering military equipment or transfer security-related funds to Pakistan unless it is required by law, says the State Department.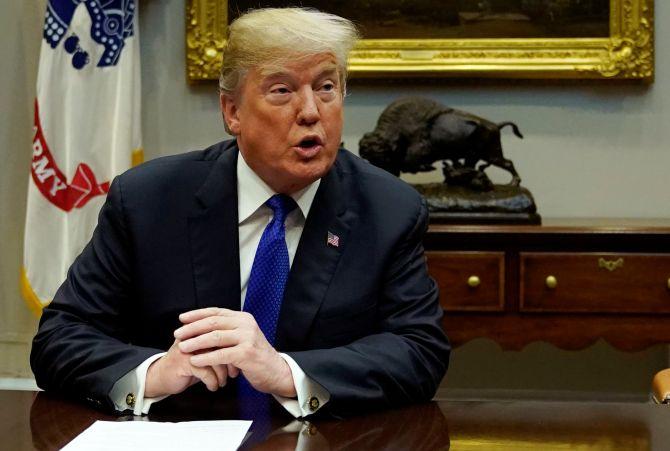 Toughening its stance, the United States on Thursday suspended about $2 billion security assistance to Pakistan for failing to take 'decisive actions' against terror groups like the Afghan Taliban and the Haqqani Network operating from its soil.
The freezing of all security assistance to Pakistan comes days after President Donald Trump in a new year tweet accused Pakistan of giving nothing to the US but 'lies and deceit' and providing 'safe haven' to terrorists in return for $33 billion (about Rs 2,14,500 crore) aid over the last 15 years.
Prominent among the suspended amount include $255 million (about Rs 1,600 crore) in Foreign Military Funding for the fiscal year 2016 as mandated by the Congress.
In addition, the Department of Defense has suspended the entire $900 million (about Rs 6,000 crore) of the Coalition Support Fund (CSF) money to Pakistan for the fiscal year 2017.
Such a drastic step has been taken at the direction of US President Donald Trump who is frustrated at Pakistan's inaction on terror groups, a senior administration official told reporters on the condition of anonymity.
Despite four months of high-level engagement with Pakistan, the information that Trump was receiving from the ground was not satisfactory, as a result he decided to suspend security assistance to Pakistan, the official added.
He, however, said that suspension can be lifted if Pakistan takes decisive actions against militant groups and terrorists.
The White House official disagreed with Pakistani allegations that the US is speaking the language of India and that US has dumped Pakistan.
"We do not believe this is the language of India. This is the language of the president and the US administration. So we just disagree with that," the official said.
The official was responding to a question about a statement made by the Pakistan Foreign Minister Khawja Asif in this regard. In an interview, Asif alleged that the US is "trumpeting India's lies and deceit" and is speaking the "language of Indians".
"Today we can confirm that we are suspending national security assistance only, to Pakistan at this time until the Pakistani government takes decisive action against groups, including the Afghan Taliban and the Haqqani Network," State Department Spokesperson Heather Nauert told reporters.
"We consider them to be destabilising the region and also targeting US personnel. The US will suspend that kind of security assistance to Pakistan," she said.
The US, she said, will not be delivering military equipment or transfer security-related funds to Pakistan unless it is required by law.
In August, while unveiling his new South Asia strategy, Trump had accused Pakistan of giving 'safe haven to agents of chaos, violence, and terror', and said the time had come 'for Pakistan to demonstrate its commitment to civilisation, order, and to peace'.
Referring to Trump's new strategy, Nauert said despite a sustained high-level engagement by this administration with the government of Pakistan, the Taliban and the Haqqani Network continue to find sanctuary inside Pakistan as they plot to destabilise Afghanistan and also attack the US and allied personnel.
Department of Defense Spokesperson Lt Col Mike Andrews told PTI that National Defense Authorisation Act 2017 provides up to $900 million for Pakistan in CSF.
Of these funds, $400 million (about Rs 2,600 crore) can only be released if the Secretary of Defense Jim Mattis certifies that the Pakistan government has taken specific actions against the Haqqani Network.
"At this stage all Fiscal Year 17 CSF have been suspended, so that's the entire amount of $900 million," Andrews said.
During an interaction with Pentagon reporters, Defense Secretary Jim Mattis did not respond to question if he was in favour of cutting off the aid to Pakistan.
"I prefer not to address that right now because it's obviously still being formulated as policy. But I'll give my advice on it to the president. I also agree on some confidentiality there," he said.
According to a senior State Department official, no decision has been taken on the fate of $255 million security assistance to Pakistan for the fiscal year 2017.
The deadline for that is September 30 this year.
Mattis along with the Secretary of State Rex Tillerson have travelled to Pakistan in recent months to deliver tough message to their leadership. So, this action should not come as a surprise to them, Nauert said.
"They may say it's a surprise, but what is no surprise is that the President has expressed his concerns, Secretary Tillerson has expressed his concerns, as has Secretary Mattis, and I imagine many other government officials having those conversations with Pakistan," Nauert said.
Now, the money that has been suspended at this time does not mean that it will be suspended forever, she said.
WATCH: United States cuts off military aid to Pakistan
"Pakistan has the ability to get this money back, in the future, but they have to take decisive action. They have to take decisive steps," she added.
"People have long asked, why don't you do more about Pakistan, and I think this sort of answers that question. Obviously, Pakistan is important, an important relationship to the US, because together we can work hard to combat terrorism. Perhaps no other country has suffered more from terrorism than Pakistan and many other countries in that part of the region," she said.
"They understand that, but still they aren't taking the steps that they need to take in order to fight terrorism," she said.
In an interaction with reporters, two senior state department officials asserted that such a move is not a punishment, but to provide an incentive to Pakistan to take more action against terrorist groups.
"We have not done anything that's irreversible here. All this funding is available to Pakistan, if they undertake to take the measures that we've asked of them," a senior administration official said in response to a question.
"Pakistanis have repeatedly said we don't care about this money. What matters I think to the Pakistani's is that it is the symbolism of doing this that it represents a deterioration of our relationship that they care about a great deal," the official said.
"So we were hoping that this is an incentive that they don't want to see this relationship deteriorate any further and that they're going to commit to working with us to try to find a way to put it on a more solid footing," the official added.
The US and others have long complained that Pakistan gives safe haven to the Afghan Taliban and their allies, the Haqqani network, allowing them to carry out cross-border attacks in Afghanistan. Pakistan denies allegations but President Trump has escalated the criticism against the country since he took office.
The Pakistanis say they have suffered great losses from the longstanding war against Islamist networks and are furious that Trump has failed to acknowledge the role they have played.
On Wednesday, the State Department accused Pakistan of severe violations of religious freedom.
It announced that it was placing Pakistan on a special watch list, pursuant to 2016 legislation.
The step does not carry any serious consequences.
US decision has nothing to with release of perpetrators of Mumbai attack
The Trump administration's decision, however, has nothing to do with Islamabad not taking action against Mumbai terror attack mastermind Hafiz Saeed, Nauert said.
"We have certainly expressed our concern about the mastermind of the 2008 Mumbai attacks being let out of house arrest in Pakistan. To my knowledge, that has nothing to do with that," she told reporters.
Nauert was responding to a question if the suspension of security assistance was related to Hafiz Saeed, the Mumbai attack mastermind who was released by Pakistan on November last year.
"There is a $10 million reward out for information leading to his re-arrest, the person who is the mastermind of the Mumbai attacks who was let go in Pakistan. So we've been very clear about our displeasure with that individual being let go, and that's why we like to remind people that there is a $10 million Rewards for Justice program out for him," Nauert said.
A senior State Department official told reporters that the US continues to have conversation with Pakistan not only on Haqqani network, and Taliban, but also on India-centric terrorist groups like Lashkar-e-Tayiba and Jaish-e-Mohammed.
"We can't continue to have a relationship that has a business as usual with Pakistan. This conversation is not new to this administration. There have been concerns about Pakistan's issue of sanctuaries for the Haqqani network and the Taliban. But we have concerns about their nuclear programme. We have concerns about the ability of anti-Indian groups like Lashkar-e-Tayiba and Jaish e Mohammed to fundraise and operate," the official who spoke on anonymity said.
Hafiz Saeed who was recently released from house arrest is among the issues that have been a feature of America's conversation with Pakistan for many years.
"This administration felt that we needed to take additional steps to underscore that we're not going to be able to continue the relationship on autopilot. We can't continue a status quo relationship. We need to be able to move beyond these challenges and put our relationship on a more solid footing," the official said.
Responding to a question, the official disputed the general impression coming out of Pakistan that it will not rearrest Hafiz Saeed as being demanded by the US.
"I have not seen them say they're not going to take any of these steps. What the Pakistani government has objected to is our characterisation of the situation on the ground. But I have never heard the Pakistani government say they're not going to re-arrest Hafiz Saeed or they're not going to prosecute him," the official said.
The Pakistanis have clearly indicated that they are unhappy with the public rhetoric of the Trump administration.
"What I would say to that is we had a number of months where we have had very serious conversations and private discussions with them and have not seen the responsiveness that we need. And at some juncture they knew that we were going to take additional steps if they did not respond to the requests that we made to them," the State Department official said.
Appreciating the help of Pakistan in the release of Coleman family, the official said at the same time if there is 'an ongoing relationship between elements of the security forces in Pakistan and the group that took the Colin Boyle family hostage that is a concern'.
IMAGE: US President Donald Trump at the White House on Thursday. Photograph: Kevin Lamarque/Reuters