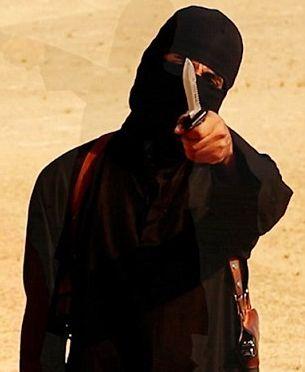 Islamic State's dreaded masked executioner 'Jihadi John' has reportedly been killed in a US drone strike in Syria with UK officials saying "there was a high degree of certainty" over his death.
The American military was 99 per cent certain that Mohammed Emwazi, 27, who appeared in IS's gruesome propaganda videos executing hostages, has been killed in the strike.
Downing Street and UK Ministry of Defence sources were marginally less certain in their response to the reports of his death than US sources, but added there was a "high degree of certainty that he has been killed".
The Pentagon is assessing whether the extremist was killed in the military action.
British Prime Minister David Cameron said although it was not yet certain whether the strike had been successful, targeting Emwazi was "the right thing to do".
If the raid killed the man seen in numerous IS beheading videos, "it will be a strike at the heart" of IS, Cameron said.
He described Emwazi as an "ongoing and serious threat" to civilians around the world, particularly in Syria and the UK.
"He was IS's lead executioner and let us not forget he killed many, many Muslims too, and he was intent on murdering many more people. So this was an act of self-defence. Emwazi is a barbaric murderer."
The prime minister added that his thoughts were with the families of those "who were so brutally murdered".
A senior US military source said the strike involved two MQ9 Reaper drones.
A formal statement from the Pentagon stopped short of asserting that Emwazi had definitely been killed, adding that it was assessing the operation.
Announcing details of the strike, Pentagon Press Secretary Peter Cook, said, "US forces conducted an airstrike in Raqqa, Syria, on November 12, 2015 targeting Mohamed Emwazi, also known as Jihadi John."
Emwazi participated in the videos showing the murders of US journalists Steven Sotloff and James Foley, US aid worker Abdul-Rahman Kassig, British aid workers David Haines and Alan Henning, Japanese journalist Kenji Goto, and a number of other
hostages, the Pentagon said.
Emwazi, who speaks English and is believed to be born in Kuwait, is frequently seen in hooded hostage videos carrying out violent beheadings. The UK government was notified of the operation and notified families whose kin was executed by Emwazi.