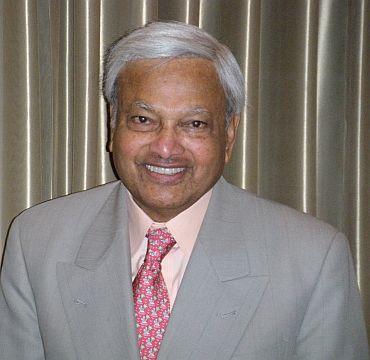 Vishwas More, retired chief engineer of the University of California, Berkeley and Stanford University labs, who proudly proclaims he is 'a life-long Republican', and a veteran of political conventions, will attend his fifth Republican National Convention this week in Tampa, Florida, as an alternate delegate.

More, 78, who hails from Kolhapur, Maharashtra, has always been elected as either a delegate or alternate from California, and never been an at-large delegate, who are not elected but allowed to sit with their state delegations as a result of their fund-raising prowess.

More told rediff.com, "I am considered one of the most dedicated Republicans attending the conventions for the past two decades, and I have always firmly believed in the Republican Party agenda since the days of President Ronald Reagan."

He recalled, "It all started when I was a student at the University of Michigan, Ann Arbor, and ever since my dedication and involvement at the local, state and national level has kept me pretty much working with Republican Party leaders all across the country."

More said, "I volunteer my time completely and believe in working at the grass roots level in the community and my emphasis has always been on the Asian Americans and Pacific Islanders and to increase their level of involvement in the political activities and enlist them as Republican Party supporters."

"My total involvement with minority groups, which was activated  by my educational background and community involvement has enabled me to take a leadership role and this is what led to my being appointed as the chief engineer both at Lawrence Berkeley Lab, University of California and Stanford Linear Accelerator lab nearly three decades ago."

More said, it was this continued political activism at the grass-roots level that also led to his being appointed to the board of governors of California Community Colleges -- the largest Community College System in the world -- by then Governor Pete Wilson and subsequently became president of this board that oversees over 112 colleges, with 1.5 million students and $5.1 billion budget.

More has also served as a board member of the Wheel Chair Foundation, board member at California State University, East Bay and additionally, as director of international projects at Alamo Rotary Club.

He said, "During all of this time, I never forgot my motherland and I spearheaded a model project to assist the schools in villages in southern India -- in Tamil Nadu -- which is almost complete."

"With my background and experience, I have been able to work with the leaders of the Republican Party and have earned their respect to be involved in the uppers level of the party at the national and state level and I have been sent to Louisiana and New Hampshire by the National Republican Party as part of the support teams of the campaigns for the governor and senators," he said.

In terms of what he hopes to bring to the table at the convention during his interactions and meetings with fellow delegates and the GOP party leaders and policymakers, More said, "It is my personal commitment to make a change to have a better life through better and small government."

"Also I believe in education and empowering communities at grass roots level to enable them to make effective laws, become a model community and country in the world."

Thus, More argued, "It is imperative for the Republicans to review and address each and every issue mishandled under the Obama leadership. President Obama's policies have created the biggest and worst economic crisis, skyrocketing unemployment and ruthless overspending during his tenure. Now it is upon the Republicans to unite and work towards job creation and economic to get the country back on track. People from all over the world come to US to seek opportunity, and have served as a valuable resource to make the US the most powerful country in the world and we have to encourage that."

More said, "Other issues include trade and the world economy and wee need to have good trade agreements, including with India and it should be based on fair trade."

"We also need to review all tax codes and establish fair tax policies, create better conditions for the small business and industry, create sufficient revenue by balancing the budget. We all know that the federal spending has gone out of control."

More said, in this regard, "The high rate of corporate tax also hurts the wages of workers and hence it is a no-brainer that better taxation and reduced spending will create jobs and good economic conditions, and the prevailing economic uncertainty will be removed."

"We need small and smart government, amd that means replace Obama. We can fix this and we will."

More also said that "there no getting away from the issue of entitlements and we need Social Security and Medicare reform and that's why I am elated over Governor Romney's choice of Congressman Paul Ryan, because here is a guy who knows the budget inside out and knows all of the workings of social security and medicare and has real solutions to these problems, which simply cannot be kicked down the road like the Obama administration has been doing."

"Obamacare should be totally gutted and a new workable, affordable plan that covers all citizens needs to be crafted. Our seniors need to be taken care of properly, and shifting funds from one pot to the other is no solution. The present health law is too complicated and needs to be revamped."

Before he was appointed to the board of governors, community colleges, by Governor Wilson, which he went on to become president of, More was commissioner, student aid commission, California -- a position to which he was again appointed by Wilson.

From the late 1980s to the early 1990s, More was also president of the Indo-American Political Association of Northern California.

Besides being chief engineer at the Lawrence Berkeley Lab at UC, Berkeley and Stanford in the mid-1980s to early 1990s, More's earlier stints included, being project engineer at Argonne National Laboratory, University of Chicago, in the early to mid-1960s, and mechanical design engineer, at Abbott Laboratory in North Chicago, and in the early to mid-1950s, as the design engineer at York Corporation in New York.

More is an alumnus of the University of Michigan, from where he received his BS and MS degrees in mechanical engineering, after immigrating to the US in 1953 after two years of undergraduate work at Baroda MS University.