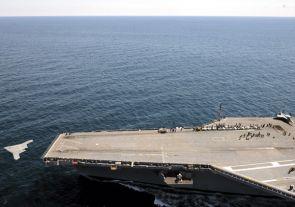 The United States has ordered the aircraft carrier USS George H W Bush to move into the Arabian Gulf to provide President Barack Obama with options for possible military action against militants in Iraq.
"The order will provide the Commander-in-Chief additional flexibility should military options be required to protect American lives, citizens and interests in Iraq," Pentagon Press Secretary Rear Admiral John Kirby said.
The Bush will be accompanied by the guided-missile cruiser USS Philippine Sea and the guided-missile destroyer USS Truxtun, he said.
"American naval presence in the Arabian Gulf continues to support our longstanding commitments to the security and stability of the region," Kirby said.
On Friday, Obama said the US would not send troops back to Iraq, but he was consulting with his national security team to "prepare a range of other options".
ISIL, which stands for the Islamic State of Iraq and the Levant, has taken major cities in Iraq and vowed to march on the capital, Baghdad.
Image: An X-47B Unmanned Combat Air System demonstrator launches from the flight deck of the aircraft carrier USS George H W Bush off the coast of Virginia. Photographs: Reuters