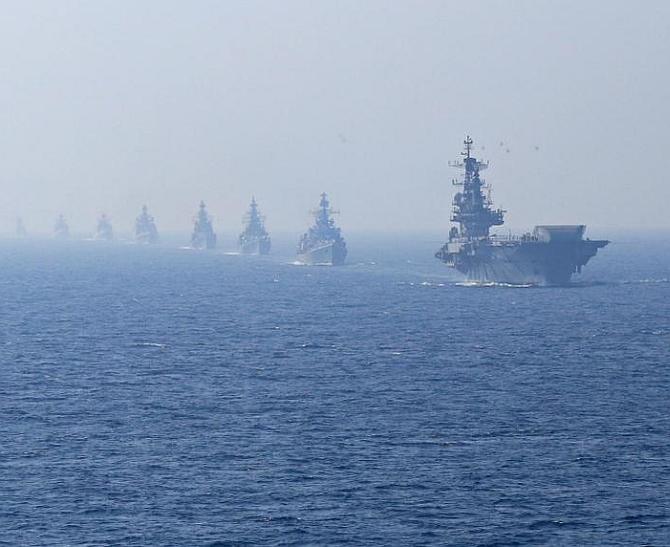 The US Navy aims at stationing 60 per cent of its surface ships in Indo-Asia Pacific region by 2019, catering to various missions including counter-terrorism, a senior naval official said on Monday.
"We already have 60 per cent of US submarines in the Indo-Asia Pacific region. The goal is to have 60 per cent of the US surface ships in this region by 2019," Vice Admiral Joseph P Aucoin, Commander of Seventh Fleet of the US Navy, based out of Yokosuka, Japan, told reporters.
He was on board the US Naval ship Blue Ridge, currently anchored at Mormugao Port Trust near Panaji, Goa.
Aucoin said that 10-15 more US surface ships in the region will make it to 60 per cent.
"It is not just the number of ships, but the best of ships are being positioned in this region, " he said.
He said that three of the common missions for the US and India in this region are counter-terrorism, maritime security and humanitarian relief during disaster.
"Maritime security is crucial for the free flow of the trade through sea lanes. Almost 90 per cent of the total trade happens in the sea. We are working closely with India and south and east Asian countries," the vice admiral said.
Aucoin said that during his India visit, he is going to meet his Indian counterpart to discuss Malabar naval exercises scheduled for June this year. The navies of the USA, India and Japan would be participating in it.
During his Goa visit, Vice Admiral Aucoin visited the Indian Navy's INS Hansa base.
"India has amazing naval capabilities. There can be a great synergy between two nations. India can be a great partner with the US as both the countries share similar capabilities," he said.
Meanwhile, US Defence Secretary Ashton Carter and Union Defence Minister Manohar Parrikar visited the US Naval ship Blue Ridge, which arrived from Mumbai last week.