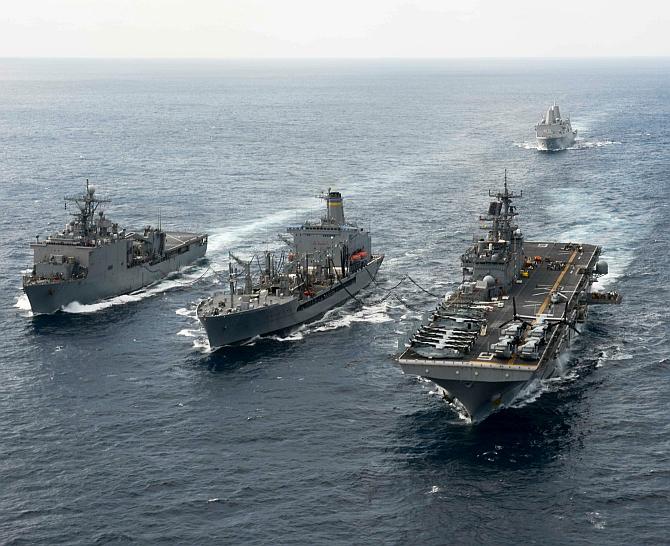 A United States aircraft carrier-led strike group is headed toward the Western Pacific Ocean near the Korean Peninsula, CNN quoted a US defence official as confirming the same.
Admiral Harry Harris, the commander of US Pacific Command, directed the USS Carl Vinson strike group to sail north to the Western Pacific after departing Singapore on Saturday, Pacific Command announced.
The official said that the move of the Vinson strike group is in response to recent North Korean provocations.
The strike group includes the Nimitz-class aircraft supercarrier USS Carl Vinson, a carrier air wing, two guided-missile destroyers and a guided-missile cruiser.
"US Pacific Command ordered the Carl Vinson Strike Group north as a prudent measure to maintain readiness and presence in the Western Pacific," said Commander Dave Benham, spokesman at US Pacific Command.
"The number one threat in the region continues to be North Korea, due to its reckless, irresponsible and destabilising program of missile tests and pursuit of a nuclear weapons capability," he was quoted as saying by news agencies.
It is not uncommon for aircraft carriers to operate in that area and the United States regularly deploys military assets, such as aircraft, to the region as a show of force. The Vinson was in South Korea last month for military exercises.
Earlier this week, North Korea launched a Scud extended-range missile, which US officials said exploded in flight.
US intelligence officials say Pyongyang could be less than two years away from developing a nuclear warhead that could reach the continental United States.
With inputs from agencies.
Representative image.