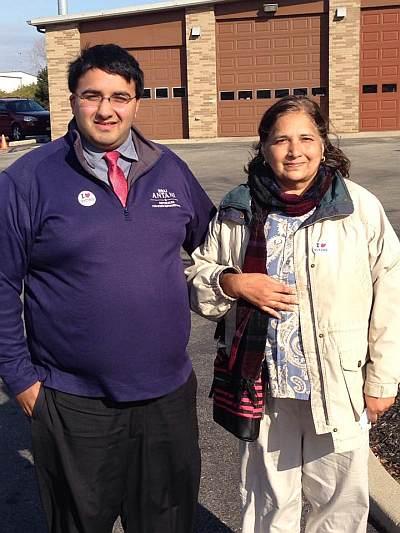 'I will work hard and fight every day for my constituents'
'I am going to fight for my community… I am a Republican because it has the same values as the Indian community'
Indian-American law student Niraj Antani, elected to the Ohio house of representatives, has great plans, reports, George Joseph/Rediff.com.
I am deeply honoured to have been elected as the state representative for Ohio's 42nd House District. I'll make you proud,' tweeted Niraj Antani, a 23-year-old law student at University of Dayton, Ohio, soon after his election on Wednesday night.

US polls: Nikki Haley, Tulsi Gabbar re-elected

"I will work hard and fight every day for my constituents in the Ohio house of representatives. Together, I know that we can create opportunities so all can achieve their American Dream. Thank you," he said.
Antani, a Republican, trounced the Democratic Party's Patrick Merris, a member of the city council in West Carrollton, in the United States mid-term polls.
The party central committee chose him in the fourth ballot against four candidates, all older than him and well-known in party circles. The seat fell vacant after the three-term state representative Terry Blair, 67, died in office in June. Since Blair had won the primary in May, it fell on the party to select the next candidate.
Antani received support from across the party, including the Tea Party. Since it is predominantly a Republican district which has not chosen a Democrat for more than two decades, Antani's victory was expected.
He is the second Indian American to reach the House, after Jay Goyal, who served three terms from 2006 from the 73rd District.
"Ever since he was in the third grade, he was interested in public activities. Later, it seemed to grow into a burning desire for politics," his mother Kokila recalled.
Antani added that he had interned with state representatives and US Congressmen for years. He chaired Ohio's Young Americans for the Mitt Romney coalition in 2012.
Miamisburg Mayor Dick Church, who declined to be the Democratic candidate, knows Antani, having sworn him into his Miamisburg third grade student council and kept track of him since. 'He's a fine young man and I think he would do fine as a state representative,' Church told the media.
Republican leaders are lauding their choice of Antani, saying it reflects a changing party that is bringing in new faces. "People are excited and welcome the diversity. I have not seen any problem being an Indian-American candidate during the campaign," he said.
"I am going to fight for my community. I am going to bring my youth and my energy to that fight to make sure that our middle class and our communities are represented in Columbus," said Antani, who plans to finish law school by attending part time.
Montgomery county sheriff Phil Plummer, party chairman, described Antani as a bright young man who is a very hard worker, and "he will do a good job serving the district".
Antani said he was a Republican because it had the same values as the Indian community, like hard work, respect for elders, self reliance and values while Democratic Party believes in dependency.
'We as Republicans can all agree on many things: we are pro-life, pro-2nd amendment, pro-family, and for low taxes and a small government. I can bring new perspectives to the Ohio House and work on issues such as education, skilled manufacturing, and the fight against drugs. In Ohio, only 24.5 per cent of the adult population has a college degree and only 87 per cent have a high school diploma,' he noted in his announcement.
Antani said while his youth might be of concern to some, he can bring in new blood and a fresh perspective to state government.
While announcing his candidacy, Antani had sent a letter to party leaders which portrayed his life and philosophy, 'In 1978, my parents immigrated to the United States from India. They did not come with much, but they came pursuing an idea known to every immigrant, to find their American Dream. Settling first in the Washington township and then buying a home in the Miami township, my father worked for Hewlett-Packard for 35 years.
'When my father (Jaimini) passed away in 2010, it was his values of hard work and of fighting for what is right that I sought to carry on. It is my hope that I can carry my parents' legacy, and provide every Ohioan with the opportunity to reach their American Dream.'
Antani currently clerks for Judge Jeffrey Welbaum on Ohio's 2nd district court of appeals. His affiliations include executive board member of the Dayton International Festival, volunteer for Dayton Right to Life, and a member of the National Rifle Association.
"I firmly believe that politicians in Columbus do too much talking and not enough listening. I plan to listen to you before making decisions," he said.

Image: Niraj Antani with his mother after voting