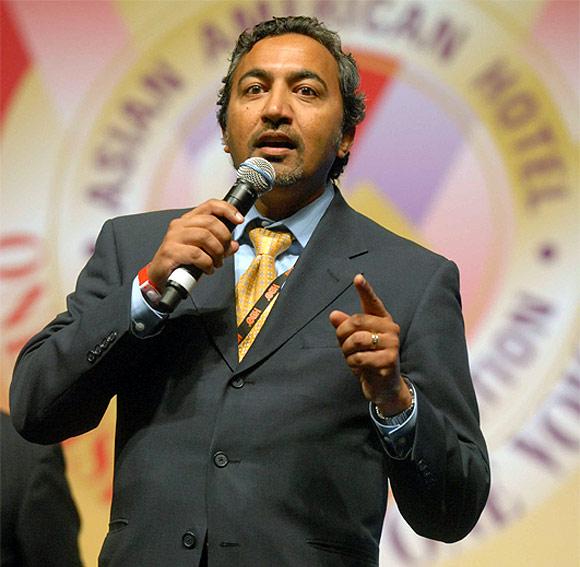 The Indian-American Democrat edged out his competition Republic Doug Ose by a narrow margin of 1,432 votes to represent California's 7th Congressional District, reports Rediff.com's Aziz Haniffa.
He said he wouldn't give up and would continue fighting till the very end and on Thursday, he was all smiles as he emerged victorious in the United States mid-term elections.
Dr Amerish 'Ami' Bera, a Democrat, retained the California's 7th District seat, two weeks after the polls for ended.
On Thursday, the Registrar announced that Bera had a 1,432 vote lead over his opponent Republican Doug Ose, who served in Congress from 1999 to 2005.
An ecstatic Bera, who was present at Capitol Hill's Congressional Diwali celebrations, said, "It's been my honour serving this community as a doctor for the last 19 years and I am grateful that I will have the opportunity to continue serving as the representative for California's 7th Congressional District in Congress."
On November 4, election night, even though all of the precincts reported that Ose had gotten a better start than incumbent Bera, the Democrat refused to concede defeat.
MUST READ: Clinton backs Ami Bera, calls him 'embodiment of American Dream'
At that point, he had told Rediff.com, "I am not going to concede at all. It was going to be a tough one and this was always expected."
Bera pointed out, 'If you remember in the contest in 2012, we were tied and after the ballots were counted, we won by over 9,000 votes."
He added, "The Registrar has tens of thousands of votes that haven't even been counted."
In 2012, Bera's race was too close to call immediately after the election but after the Registrar of Voters counted those types of ballots, which took nine days, Bera won by a margin of 9,191 votes.
This time after 14 days, he has edged out the competition with a margin of only 1,432 votes. However, it is creditable as these elections saw the Democrats being beaten by the Republicans.
Bera, who has been often dubbed by the Republicans as the US president's lackey and Obamacare devotee, told Rediff.com that he had contend with the anti-Obama trend. "I am sure that there was some effect of the president's popularity on the race," adding, "I have said it many times that this was going to be a close fight and that the Republicans would spend millions trying to win this seat back."
According to the Center for Responsive Politics, the Bera-Ose race has been the most expensive House race, with a total of $20.6 million (Rs 127 crore) being spent.