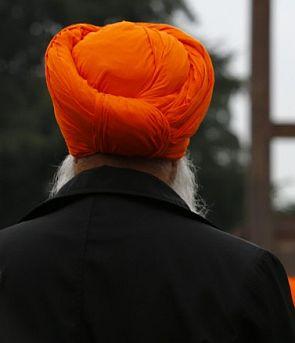 A Seattle man has been sentenced to over three years in prison and ordered to pay damages for brutally assaulting a Sikh taxi driver last year in a racially-motivated hate crime during which he used "the most disgusting and ugly" racist language against the victim.
Jamie Larson was sentenced on Tuesday by US District Court Judge John Coughenour to 40 months in prison followed by three years of supervised release.
Larson also owes restitution to the Sikh taxi driver, who hails from India, in an amount to be determined at a later date, the Justice Department said.
The identity of the Sikh man was not revealed.
Coughenour said the sentence should send the message that this kind of conduct "is absolutely unacceptable. Larson used the most disgusting, ugly and racist language that I have heard in 30 years on the bench."

Larson, 50, had plead guilty to one count of violating the Matthew Shepard and James Byrd Hate Crimes Prevention Act, which criminalise acts of physical violence causing bodily injury motivated by any person's actual or perceived race, colour, national origin, religion, sexual orientation, gender or disability.
According to information presented in court, the Sikh taxi driver drove an intoxicated Larson to a private residence near Seattle in October 2012.
After arriving at the residence, Larson grabbed the taxi driver by his beard and struck him in the face and shoulder many times before pushing him to the ground.

Larson then repeatedly stomped the Sikh man in his stomach, calling him a "raghead" and a "towelhead."
He also screamed various comments to the victim, such as "what are you doing here?" and "why did you come to my country?" Larson admitted that he attacked the victim because he believed the Sikh man was of Middle Eastern descent or ethnicity.
Larson was arrested at the scene of the attack after a witness called 911.
The Sikh man was immediately taken to a hospital and suffered bruising, a loose tooth, sprains and strains to his back and shoulder, and acute kidney failure from the prolonged assault.

He was hospitalised for more than a week and had to undergo prolonged therapy.
"The Department of Justice is fully committed to using all resources at its disposal to thoroughly investigate and vigorously prosecute racially-motivated attacks," said Acting Assistant Attorney General for the Department's Civil Rights Division Jocelyn Samuels.
"Violence based on a person's race or ethnicity should be an unfortunate vestige of the past, but when these bias-motivated attacks occur, the Civil Rights Division will stand ready to swiftly bring justice for the victims."
US Attorney Jenny Durkan of the Western District of Washington state said no person in "our community should face hate-based danger. We will use all federal tools to hold defendants accountable."

Muslim civil liberties and advocacy organisation the Council on American-Islamic Relations' Washington state chapter (CAIR-WA) had demanded the maximum punishment for Larson, saying such punishment will send a clear message that racially-motivated violence is "unacceptable."

"This case highlights a growing concern that mainstream acceptance of hateful anti-Muslim rhetoric and conspiracy theories threaten the lives of not just Muslims but those perceived to be Muslim," CAIR-WA Executive Director Arsalan Bukhari told PTI.

He said there have been several violent attacks in recent years against individuals and organisations that were perceived to be Muslim.
"There were over a dozen violent anti-Muslim hate attacks in 2012 just in the states of Washington and Oregon, part of a nationwide wave of violent hate attacks that included the killing of 6 people at the Gurudwara in Wisconsin and the killing of a Hindu man in New York City," he added.

"When speakers who promote conspiracy theories are welcomed to speak at churches and synagogues and even the US Congress, it gives their false messages the credibility they don't deserve.

Giving credibility to hateful ideas and conspiracy theories then mobilises many to take action against fellow Americans whom they perceive to be a threat," he said.