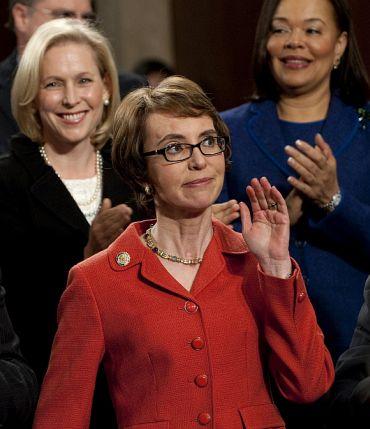 Exactly a year after she was grievously injured in a gun attack, Congresswoman Gabrielle Giffords resigned formally from the House amidst standing ovation and tributes from her colleague.

Giffords will return to Houston to focus full-time on her rehabilitation from a gunshot wound to the head which sustained during a public event in Arizona's Tucson area.

"I will recover and return," the 41-year-old Arizona Democrat vowed.

Giffords' colleagues from both sides of the partisan divide were overcome by emotion as they shared remarks on the Congresswoman's ability to overcome adversity and her passion for public service.

While seated in the chamber's front row, Giffords listened amidst tears and laughter to the lawmakers, who praised her dignity, grace and perseverance.

Her mother, Gloria, and husband, retired Navy Capt Mark Kelly, who is a former astronaut, watched from the gallery.

Giffords stood in the well of the House as her close friend Florida Republican Debbie Wasserman Schultz read her resignation letter.

Other members of the Arizona delegation surrounded her and Republican Jeff Flake held her hand.

An emotional Wasserman Schultz said Giffords would return one day.

Wasserman Schultz, who also serves as chair of the Democratic National Committee, wept as she praised her friend.

"It will always be a great treasure of my life to have served with (Giffords)," Wasserman Schultz said.

"No matter what you argue here or in this country, there should be nothing more important than family or friendship."

Giffords' farewell comments, read to House members by Wasserman Schultz, thanked her constituents for their continuing faith in her and thanked Americans for their prayers and patience.

"Always I fought for what I thought was right. But never did I question the character of those with who, I disagreed. Never did I let pass an opportunity to join hands with someone just because he or she held different ideals," Giffords said in the letter.

"I don't remember much from that terrible day, but I have never forgotten my constituents, my colleagues or the millions of Americans with whom I share great hopes for this nation.

"I have given all of myself to being able to walk back onto the House floor this year to represent Arizona's 8th Congressional District. However, today I know that now is not the time. I have more work to do on my recovery before I can again serve in elected office.

"Every day I am working hard. I will recover and will return and we will work together again for Arizona and for all Americans," she said.

Giffords also paid tribute to six others who were killed in the gun attack -- Chief Judge John Roll, Giffords' community outreach director Gabe Zimmerman, nine-year-old Christina Taylor Green, Dorwin Stoddard, Dorothy Murray and Phyllis Schneck.

"Six beautiful Americans (who) died performing a basic act of citizenship. Not a day goes by that I don't feel grief for the lives lost and so many others torn apart," she said.

Giffords' letter will be delivered to Arizona GovernorJan Brewer (R) on Thursday, who will determine the dates for the special primary and special election to fill Giffords' seat for the remainder of her 2012 term.

Giffords then walked up to the Speaker's chair to hand Boehner her letter.

She stumbled briefly, stood back up, stepped up and took Boehner's hand, at which point he lost it.

She submitted her letter of resignation effective at the end of the day to Boehner, who burst into tears, as many members in the House chamber already were.

The two clasped hands as her colleagues gave her a thunderous standing ovation.

The House then voted on her her final piece of legislation: a bill that would impose tougher new penalties on smugglers who use ultralight low-flying aircraft to bring drugs across the Mexican border to evade radar detection.

She cast her last vote. The bill passed unanimously.

After the tribute, Astronaut Kelly said his wife realised stepping down was the right thing to do.

"But I'm more optimistic than anybody else about her future. She just needs some more time, whether it's a year or two years or three years, I'm very confident she's going to have a long and effective career as a public servant," he said.

Giffords' mother, Gloria said that "I think she has transcended Congress and I don't know where she is going to end".