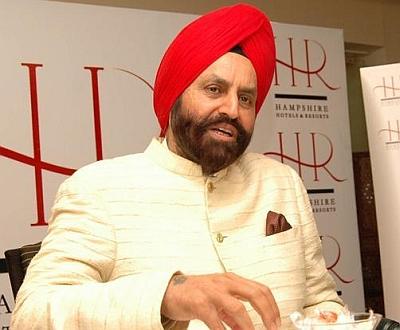 Indian-American hotelier Sant Singh Chatwal avoided jail time and was sentenced to three years probation and a $500,000 fine on charges of illegally donating thousands of dollars to political campaigns.

Chatwal, 70, a Padma Bhushan awardee and major fundraiser for former US Secretary of State Hillary Clinton, had pleaded guilty in April this year to violating the Federal Election Campaign Act by making more than $180,000 in campaign donations to three candidates through straw donors and to witness tampering.

He was sentenced on Thursday by US District Judge I Leo Glasser in the Eastern District of New York federal court.

Chatwal was accompanied by his wife and son Vikram along with several friends and family members.

He repeatedly apologised to the judge for his behaviour and said he had been humbled by the experience.

"I apologise for what I have done to my family. I have let them down terribly," Chatwal told the judge.

The judge imposed a sentence of probation of three years and the $500,000 fine and said Chatwal should continue doing the community service that his friends and family have detailed in nearly 300 letters of support to the court.

After the sentencing Chatwal told PTI that he is very happy with the verdict.

"The judicial system in this country is very fair," he said adding that he has worked to strengthen Indo-US relations and people-to-people contact and will continue to do so.

Ahead of the sentencing, Chatwal's lawyers had submitted a memorandum seeking leniency, urging the court to weigh Chatwal's age and "lifetime of contribution" to others and the impact imprisonment would have on his family and community in sentencing him.

They had requested that a sentence of probation with substantial community service be imposed on Chatwal to enable him to "make amends by continuing to serve others and take care of his sons," Vivek and Vikram who depend on him to an "exceptional degree" due to their medical disabilities.

Chatwal "comes before this court humbled -- filled with remorse and shame for what he has done, knowing that he broke the law and, as a consequence, disappointed the many people who depend on and look up to him," the lawyers had said asking the court to recognise that he is a "good man, albeit one who erred, whose life has been distinguished by a devotion to this country -- his adopted home -- and a commitment to protecting and uplifting others".

Over 300 letters of support from Chatwal's family, friends and business associates, including author Deepak Chopra and Zee Network Chairman Subhash Chandra, detailing Chatwal's various philanthropic activities, his contributions to strengthening Indo-US relations and his devotion to his family were submitted in court in seeking leniency from Glasser.

Prosecutors however asked the court to reject Chatwal's plea for leniency saying that he should be sentenced to 46-57 months as set forth in the plea agreement he entered with the government, saying that he knowingly sought to "undermine" the American government's transparent electoral system and the criminal justice system.

"Given Chatwal's background and his conduct, his pleas for leniency
only underscore the seriousness of his offence conduct and serve to perpetuate the corrosive perception that there is one set of rules for the rich and powerful and another for everyone else," they said.
While the charges carried a maximum prison sentence of 25 years, a plea deal with the government ensured Chatwal's prison term would be less than five years. He had also agreed to forfeit $1 million to the US government.
Among the letters submitted in court is a November 2008 letter by then Prime Minister Manmohan Singh, who expressed his "sincere appreciation" for Chatwal's "personal efforts" in working for the successful conclusion of the Indo-US civil nuclear initiative.
Chatwal had been free on a $750,000 bail and had surrendered his passport.
According to court filings, from 2007 to 2011, Chatwal used his employees, business associates and contractors who performed work on his hotels to solicit campaign contributions on Chatwal's behalf in support of various candidates for federal office and political action committees, collect these contributions, and pay reimbursements for these contributions.
Chatwal and his associates induced straw donors to make the campaign contributions, promising them that they would be reimbursed. A straw donor is someone who illegally uses someone else's money to make campaign contributions in his or her own name.
Chatwal orchestrated a scheme to make approximately $188,000 in campaign contributions to three candidates for federal office via straw donors, and he often arranged for the straw donors to be reimbursed through his associates, ultimately paying for the reimbursed contributions with funds belonging to him or one of his companies.
The evidence against Chatwal includes an October 2010 recorded conversation between Chatwal and a business associate who became an informant, in which Chatwal underscored his view as to the importance of political campaign contributions, stating that without campaign contributions, "Nobody will even talk to you. That's the only way to buy them, get into the system. What, what else is there? That's the only thing".
According to court filings, Chatwal sought to obstruct the grand jury investigation into his Election Act scheme by tampering with a witness, a person whose business performed construction work for Chatwal and his companies and who had recruited straw donors at Chatwal's direction.
In a June 2012 recorded conversation, Chatwal told the individual that if FBI and IRS agents approached him or his family, they should not speak with the agents and should instead refer them to a lawyer Chatwal would provide.
During this conversation, the individual said that he would not tell agents that Chatwal gave him money to reimburse straw donors. Chatwal replied, "Never, never".
While the identities of the candidates for whom the campaign donations were made were not disclosed,
Wall Street Journal
had quoted a law-enforcement official as saying that the donations were made to the political campaigns of former US Senators Hillary Clinton and Chris Dodd and former Florida Representative Kendrick Meek.
There is no allegation that the candidates participated in, or were aware of, Chatwal's scheme, federal prosecutors had said.