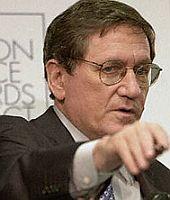 Contrary to India's position that it has a legitimate boundary with Afghanistan, a top US official has said both the countries does not share a common border.
"If you look at the map, Afghanistan has a lot of neighbours. I mean, bordering neighbors. You mentioned India. India doesn't have a common border with Afghanistan. But I'm talking about just the countries that have direct borders next to them," said Richard Holbrooke, Special US Representative for Pakistan and Afghanistan.
"Every one of the neighbours (of Afghanistan) has a role to play here in the stabilisation and demilitarisation, ultimately, of Afghanistan. And when I say every one, I mean every one of the neighbours," Holbrooke said.
Holbrooke's statement is contrary to India's position that the entire state of Jammu and Kashmir is an integral part of the country; which has its physical boundary with Afghanistan.
The part of the country which shares boundary with Afghanistan now falls in Pakistan-occupied Kashmir (PoK), a portion of India which has been illegally occupied by Pakistan for nearly 60 years.
'Not negotiating between India and Pakistan'

Observing that India has legitimate concerns about what happens in the Af-Pak region, Special US envoy for Pakistan and Afghanistan, Holbrooke refuted claims that he is negotiating between India and Pakistan.
"Everyone understands that India has a legitimate concern for what happens in the region, but I am not negotiating issues between India and Pakistan," he said while commenting on reports that appeared in a section of Pakistani media that he was negotiating between the two countries.
"That's not my job, and nor is it something that would be productive if I were to undertake it," he said.
Holbrooke said he keeps India fully informed of his activities on a regular basis through the Indian Ambassador to the US, Meera Shankar. "She and I see each other frequently."
He said his job does not include India. "I am the Special Representative for Afghanistan and Pakistan. I never sought to be the representative or envoy for India."

Terming India "a great country", he said: "We have an excellent ambassador there, Tim Roemer, and he represents us. And we have a wide range of bilateral relationships, which would not, under any circumstances, involve me."
Holbrooke stressed that relationship with India was important to the US, so do with Pakistan.