Senator John Cornyn, founder and Republican co-chair of the Senate India Caucus, strongly defends his vote against a resolution to block the sale of F-16s to Pakistan.
Aziz Haniffa/Rediff.com reports from Washington, DC.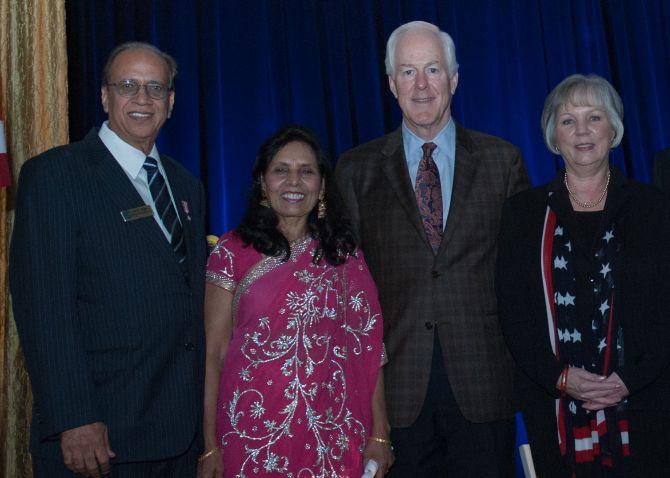 IMAGE: Senator John Cornyn, second from right, has opposed a resolution intended to block the Obama administration's decision to sell F-16 fighter jets to Pakistan.
United States Senator John Cornyn, a Texas Republican and founder and GOP co-chair of the Senate India Caucus -- the only country-specific caucus in the US Senate since its inception over a decade ago -- has strongly defended his vote last month against a resolution aimed at blocking the Obama administration's decision to sell eight F-16 fighter jets to Pakistan, saying he did so in America's 'national interests.'
Citing a provision in the 1976 Arms Export Control Act, Senator Rand Paul, a Kentucky Republican, had attempted to win Senate approval of his Resolution of Disapproval on the sale.
However, the Senate voted overwhelmingly by 71-24 to table Senator Paul's Resolution of Disapproval, pushing it to the backburner, which essentially gave the administration the green light to go ahead with the sale.
In the US, to 'table' usually means to postpone or suspend consideration of a resolution, legislation or a pending motion -- which essentially means shelving it -- unlike in the United Kingdom or Commonwealth countries and the rest of the English-speaking world, where 'tabling' vis-a-vis parliamentary procedure means the opposite -- to begin consideration or reconsideration of a piece of legislation, or a resolution as introduced by Paul or any other such proposal.
The vote by the Senate to table the Resolution of Disapproval to block the sales of the F-16s was a victory for the Obama administration -- not to mention Islamabad -- which had announced on February 12 that it had approved the $700 million (around Rs 460 billion) sale of the aircraft as well as radar and other equipment to Pakistan.
A conference on Monday, April 25, hosted by the Atlantic Council, a Washington DC-based think- tank -- titled 'Unlocking the Potential of US-India Trade' -- featured Cornyn and Senator Mark Warner, the Democratic co-chair of the Senate India Caucus.
Jay Kansara, Washington director of the Hindu American Foundation, asked Cornyn to "explain your rationale on why you voted in that way as co-chair of the India Caucus given the concerns of religious extremism in Pakistan."
Expressing absolutely no qualms over his vote, Cornyn argued, "Just as we've been discussing, each of our countries has to pursue its national interests and not be forced to pick between different countries."
"Clearly, the United States needs to maintain our engagement with Pakistan," he said, adding, "I believe because obviously Pakistan -- because of geography, because of history -- even though I do not -- many of us do not approve of a lot of their policies in what they are doing, particularly in supporting terrorist activities in Afghanistan by the Haqqani Network and others."
"But," he reiterated, "I believe, it's important for us to maintain our relationship with Pakistan and that's the reason I voted the way I did -- not because I believe Pakistan is always a good actor."
"There's complicated relationship, which is the reason why you saw the divergence on voting on that (Senator Paul's resolution)," Cornyn said.
"I don't think anybody is fooled by the complexity and the importance of trying to resolve our relationships with both Pakistan and India," he said, and emphasised, "I don't think the United States has to choose between the two."
"We need to be actively engaged and pursue our national interests with both India and Pakistan," Cornyn added.
Interestingly, even before Cornyn could respond to Kansara's question, Warner jumped in and while pointing out that he voted for the resolution to block sales of the F-16s to Pakistan, obviously perceiving the question to be embarrassing to Cornyn, declared that there is no better friend of India than Cornyn.
"I voted with Senator Paul because of my grave concerns about Pakistan's behaviour," Warner said.
"But let me also state that on the Democratic side, the (Senate) India co-chairs come and go -- (then Senator Hillary) Clinton, (Senator Christopher) Dodd, Warner," he said, and asserted, "But nobody is a better friend of India than John Cornyn -- he has stayed as co-chair of the Caucus for more than a decade."
Cornyn founded the Senate India Caucus after a visit to India more than a decade ago after being convinced to do by an Indian-American constituent of his, Ashok Mago, who founded the Indo-American Chamber of Dallas-Fort Worth, who accompanied Cornyn on this trip.
On his return, Cornyn, after a year or so with a handful of members, invited then Senator Hillary Clinton to be the Democratic co-chair and the number of members of the Caucus soared and has held steady with about 40 Senators currently.
With regard to the Paul resolution to block the sales of the F-16s to Pakistan, which Cornyn voted against, Warner made a most passionate appeal on the Senate floor in support of the resolution.
In his intervention, Warner warned, 'If we move forward with these sales without putting some markers down, I think we potentially not only do damage to holding Pakistan's feet to the fire in terms of the threat of terrorists in Afghanistan and elsewhere in the region but also potentially could do damage to one of the most important relationships our country has, and that is the strategic relationship between the United States and India.'
'This relationship,' Warner pointed out, 'has been one of enormous growing importance. India has been a valuable and strategic partner of the United States and is a tremendous ally in promoting global peace and security.'