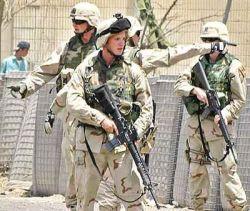 US military deaths in the Afghan war have reached the 2,000 mark, according to a report.

The toll has climbed steadily in recent months with a spate of 'insider attacks' by Afghan army and police against American and NATO troops.

The recent attack took place at an Afghan army checkpoint just outside a joint US-Afghan base in Wardak province, in which an Afghan soldier opened fire on American troops.

At least two Afghan soldiers and an American civilian contractor also died in the shooting on Sunday, the Daily Mirror

reports.

According to the report, Afghan soldiers and policemen, or militants in their uniforms, have killed over 50 foreign troops in 'green on blue' killings so far in 2012.

In addition to the 2,000 Americans killed since the Afghan war began on October 7, 2001, at least 1,190 coalition troops from other countries have also died, 433 of them British, the report said.