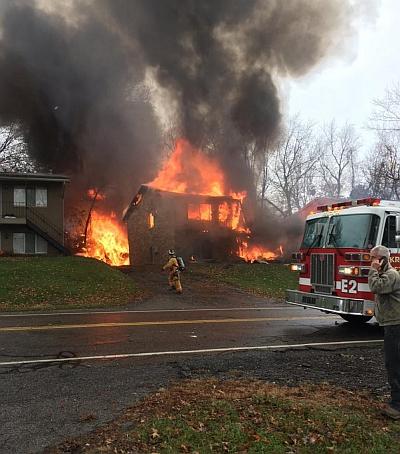 All nine people on board a private corporate jet were killed when it crashed into an apartment building in Akron in the US state of Ohio, the owner and operator of the plane said.
Augusto Lewkowicz, the owner and operator of the Hawker 800 jet, said seven passengers and two crew members were on board the plane.
Authorities said no one on the plane survived, but they would not yet confirm the number of people on board or dead, Ohio.com reported.
It appeared no one on the ground in the Ellet neighborhood where the crash occurred was injured or killed.
Eyewitnesses reported seeing the plane fall out of the sky and a huge ball of fire after the crash, which happened shortly before 3 pm local time on Tuesday.
Lewkowicz told the Beacon Journal that he would not release the names of the passengers or crew members in the fatal crash near the corner of Mogadore and Skelton roads.
"I owe responses to the family members first," Lewkowicz said.
It wasn't known whether any of the crash victims were from the Akron area.
The jet was on the second leg of a charter that began on Monday, Lewkowicz said, noting that there was no indication before the crash that anything was wrong.
"It was a perfectly well-maintained aircraft with no squawks," Lewkowicz said, adding that there was no chatter from the pilots to indicate anything was out of the ordinary.
The flight was chartered by Execuflight, a Florida company.
The plane, according to FlightAware.com records, originated in Fort Lauderdale on Monday, flying to St Paul, Minnesota, then to the Quad City International Airport in Moline, Illinois, then on to Spirit of St Louis Airport in Missouri before finishing the day at Cincinnati Municipal Airport.
On Tuesday, the plane made a short jaunt to Dayton Wright Brothers Airport before embarking for a 36-minute flight to Akron Fulton.
Staff Lt Bill Haymaker of the Ohio State Highway Patrol said the aircraft clipped electrical and telephone wires on Mogadore Road before hitting a small apartment building and slamming into an embankment, destroying the apartment completely. A second house in the area also was damaged, likely from the fiery debris.
The occupants of the building that was destroyed were not home at the time of the crash.
Two Federal Aviation Administration investigators were on the scene.
The crash caused at least 1,500 customers to lose power.
Image: The apartment complex burst into flames when the plane crashed down. Photograph Courtesy: Scott Ferrell/Twitter