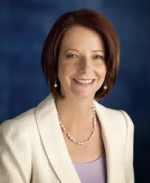 Defending her move to start talks on supplying uranium to India, Australian Prime Minister Julia Gillard has said the ruling Labor's previous stance against the sale was becoming an obstacle in ties, but made it clear that a safeguard agreement is likely to take one or two years.
Gillard, who is on a three-day visit to India, hosed down any suggestions that uranium sales to India will start quickly, the
Sydney Morning Herald
reported on Tuesday. She said that negotiating a safeguard agreement is likely to take one or two years, rather than months.
Gillard, undertaking her maiden India visit as prime minister, deflected criticism of future uranium exports and said Australia knew how to negotiate a proper agreement to ensure uranium was used for peaceful purposes.
"I think India is a wonderful example of everything we have been talking about as the possibilities of the Asian century," another newspaper
The Australian
quoted her as saying.
Gillard said she was sure the uranium issue would be raised during her talks with the Indian leadership.
The Australian PM is set to meet her Indian counterpart Manmohan Singh and Congress President Sonia Gandhi during her India visit.
Gillard said Australia had negotiated agreements in the past and done so on the basis that its uranium "is only used for peaceful purposes". She said the International Atomic Energy Agency would be involved and India would have a protocol with the body in any agreement.
Separately
ABC
quoted Gillard as stressing that India was a reliable country that would use the uranium in a responsible manner.
"We know how to negotiate these agreements and we've done it in the past, and we've done it on the basis that Australian uranium is only used for peaceful purposes," Gillard said. "I formed the view as PM that it was appropriate for us to sell uranium to India, and that it had become an obstacle in our relationship that we were not."
Gillard won a major victory last December when the Labor party's national conference voted to over-turn a longstanding prohibition on uranium sales to India, which is not a signatory to the Non-Proliferation of Nuclear Weapons.
With the obstacles of uranium sales and the Indian student safety issue resolved, the Australia-India relationship is at a point "where we can add a whole lot of weight to our bilateral relationship because our interests are converging,"
Gillard was quoted as saying by local media here. She said the relationship was very focused on commodities and international education but there were enormous opportunities in areas such as water technology, health, legal and financial services.
Gillard said the prospects for further growth in trade were bigger because the relationship with India was less developed than with other Asian nations such as Japan. She said as a relatively young nation with a median age of 26 India would see its middle class grow by hundreds of millions of people over the next few years.
"Even if you limit the time horizon to the next 10 or 20 years our economy is going to be shaped by this growth of the Asian middle class in which India is going to be a very big contributor," Gillard said.
She further said India was already Australia's biggest source of skilled migrants as people-to-people links continued to grow.